Teen suspect in WWII veteran fatal beating arrested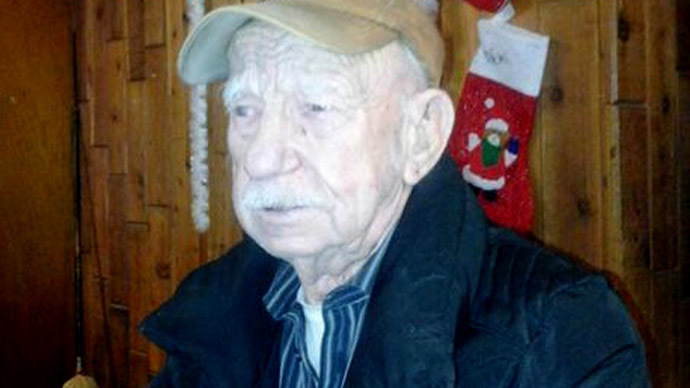 The police have arrested one of the two teens suspected of fatally beating an 88-year-old World War II veteran at the Eagles Lodge in Spokane on Wednesday evening.
The suspect, described as a juvenile, has been charged with first degree murder and first degree robbery, KXLY television reports.

Former US infantryman, Delbert Belton, known as "Shorty" by his friends at the Eagles Lodge, served in the US Army in the Pacific during World War II and was shot in the leg during the Battle of Okinawa.

Witnesses say the veteran was in the parking lot of the men's club on Wednesday evening, about to join friends in a game of pool, when two male suspects attacked him.

"It does appear random. He was in the parking lot, it appears he was assaulted in the parking lot and there was no indication that he would have known these people prior to the assault," Spokane Police Major Crimes Detective, Lieutenant Mark Griffiths, said.

Belton, 88, succumbed to his injuries on Thursday morning at the Sacred Heart Medical Center.

A friend, Ted Denison, told the Spokesman-Review paper that he was planning to go to the Eagles Lodge when he heard Belton had died.

"He put his life on the line for our country to come home and 60 years later? Get beat to death? That's not right," he said.

Belton's sister, Alberta Tosh, told the newspaper that her brother "went through hell" during his years in the US Army and "came home shell-shocked pretty bad."

After the war, he spent 33 years working for Kaiser Aluminum and led a full and busy life following his retirement in 1982.

Tosh added that he enjoyed dancing, repairing old cars and was always surrounded by close friends and loved ones.

Before the attack, Belton was waiting outside the lodge for a female friend because he didn't want her to walk in alone, the Spokesman-Review paper reported.

K-9 police attempted to track the suspects' trail right after the attack, but were unsuccessful. However, video surveillance footage captured images of two men – one in the parking lot and another in a nearby convenience store – suspected of being the assailants in the attack.

With one suspect detained, the Spokane Police Department is currently working to track the second attacker down.

The police described the suspects as two male African Americans between 16 and 19 years old. One suspect was said to be heavy set and wearing all black clothing.

The other was described as being about 6 feet tall and 150 pounds. There was no information on what clothing the second suspect was wearing, aside from a silk do-rag.