US deploys troops to Niger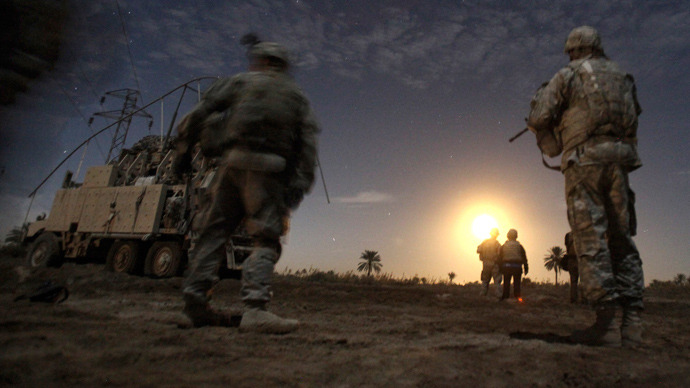 The US military has deployed about 100 troops in Niger to help coordinate intelligence sharing with the French, whose forces are currently fighting to seize Islamist-controlled territory in Mali, President Obama announced Friday.
The US forces are armed with "weapons for the purpose of providing their own force protection and security," Obama said in a letter to Congress, adding that Niger officials consented to their deployment. The president said the troops will operate out of Niger to help gather intelligence information about the conflict in Mali, but did not elaborate on any specific plans that will be assigned to them.

The announcement comes just a few weeks after the Nigerian Defense Ministry revealed their approval to host an airbase for unarmed American spy drones, which could be used in Mali to monitor Islamists.
"This is directly related to the Mali mission, but it could also give Africom a more enduring presence for [the Intelligence, Surveillance and Reconnaissance (IRS) program]," an American military official told the New York Times.

Predator drones would be able to gather detailed information on the whereabouts and actions of militants in Mali, as well as monitor the flow of weapons and fighters from Libya.
While the president did not mention any plans regarding the airbase, his announcement regarding the latest deployment is the latest in a number of US moves to help the French. Defense Secretary Leon Panetta in January proclaimed that the US would not get directly involved in the Mali conflict, but would provide assistance in forms of transportation and intelligence-gathering assistance.
When France began its initiative in January, the US airlifted hundreds of French troops and equipment to Mali, using its C-17 transport planes. But the Obama administration gradually expanded its roles in the African conflict, agreeing to fly tankers to refuel French jet fighters and bombers.
Recently retired congressman Ron Paul last month expressed his frustration with US involvement, claiming that "this is clearly developing into another war", despite the Obama administration's promise not to intervene directly.
But some lawmakers have taken the opposite stance, criticizing the president for not doing enough to help France in Mali. With lawmakers divided on the issue of how to handle the conflict, the president continues to make decisions on his own, relaying his plans to Congress once they are already in action.
"I am providing this report as part of my efforts to keep the Congress fully informed, consistent with the War Powers Resolution," Obama wrote in his letter.
And with US troops on Niger's soil and the approval to set up an airbase on the Malian border, involvement in the conflict might only continue to escalate.
You can share this story on social media: