US considering new drone base in Africa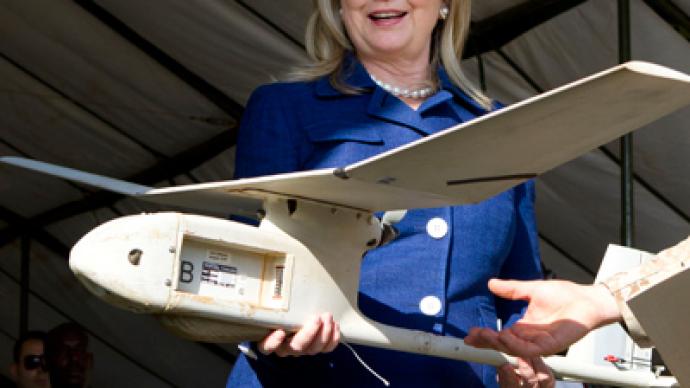 The US is planning to consolidate its position in Africa with a new drone outpost in Niger, with the stated purpose of providing unarmed surveillance support to French efforts in Mali and keeping tabs on al-Qaeda elements on the continent.
The robotic unmanned aircraft would likely be based in Niger, on the eastern border of Mali, where French forces are currently waging a campaign against Al-Qaeda, AFP reported, quoting an anonymous official.If the plan is approved, up to 300 US military servicemembers and contractors could be sent to the base to operate the drone aircraft, the New York Times reported. US Africa Command is also considering another location as an alternative to the base in Burkina Faso, the official said.However, State Department spokesperson Victoria Nuland reiterated that there are no plans to commit US troops to any fighting on the ground.In the future, the US command does not rule out using the base to conduct military strikes if the situation deteriorates or the extremist threat increases, military officials told The New York Times.In the meantime, the US military's Africa Command is reviewing the options for the base with other countries in the region, including Burkina Faso. The Africa Command's scheme still needs the go-ahead from the Department of Defense, President Barack Obama and Niger. No final decision had been made, but a status-of-forces agreement has been reached between the two governments in Niger on Monday, providing legal protection to American troops in the African country. "Niger has given the green light to accepting American surveillance drones on its soil to improve the collection of intelligence on Islamist movements," Reuters quoted its source who asked not to be identified. If the drone base plan goes through, the facility could become home to as many as 300 American military and contractual personnel. The United States so far has only one permanent base in Africa, in Djibouti. The drone base there is widely used for missions in nearby Yemen and allows access to Somalian and Sudanese airspace. A base in Niger would drastically shorten the response time to developing situations in the region. The ongoing discussions about the installation follow the French military intervention in Mali and the Algerian hostage crisis, which left at least 37 foreigners dead and highlighted the threat from al-Qaeda in the Islamic Maghreb.On Wednesday, outgoing US Secretary of State Hillary Clinton promised not to let northern Mali become a "safe haven" for extremists in the region as al-Qaeda-affiliated insurgents have become a "a very serious, ongoing threat."Last week, Washington sent approximately 100 military trainers to nations that are prepared to, or have already deployed, troops to Mali – including Nigeria, Niger, Burkina Faso, Senegal, Togo and Ghana.
You can share this story on social media: