US trade deficit hits seven-month high as exports stay low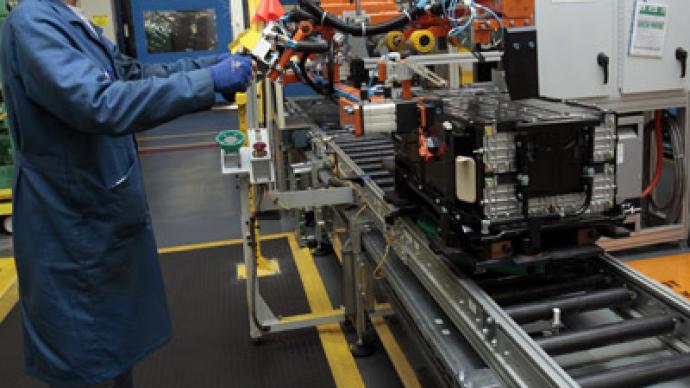 The US trade deficit widened to $48.7 billion in November as visible imports grew by 3.8 percent and far outpaced the number of exports, thereby slowing the growth of the US economy and bringing the trade gap to a seven-month high.
The trade gap grew unexpectedly by 16 percent, which economists attribute partially to the mass import of Apple's newest iPhone and iPad tablets, which are assembled in China. Cell phones accounted for one-fifth of the overall gain in November, while pharmaceuticals, diamonds and clothes were also imported at a much higher rate than previously. In a one-month period, US imports increased 3.8 percent to $231.28 billion.At the same time, exports were only up by 1 percent in November and brought in only $182.55 billion. While the sale of telecommunications equipment increased slightly, the sale of food, feeds and beverages decreased. US shipments to Europe, which account for about one fifth of all US exports, dropped by 2.5 percent after having fallen 5 percent in the previous month.Trade deficits indicate a negative trade balance, which Warren Buffet, founder of Berkshire Hathaway, described in 2006 as a contribution to US economic problems."The US trade deficit is a bigger threat to the domestic economy than either the federal budget or consumer debt and could let to political turmoil," he told the Associated Press. "Right now, the rest of the world owns $3 trillion more of us than we own of them."The numbers have significantly changed since 2006, particularly the US trade deficit with China, which totaled $29 billion in November and is on track to set a new annual record in 2012. But Martin Schwerdtfeger, a senior economist at TD bank, told the Washington Post that's there's a silver lining: the increase in imports means consumers are spending more at home."The higher imports could mean that domestic consumption is improving. That would override some of the drag from a higher trade deficit," he said.The National Association for Business Economics predicts that the trade deficit for 2013 will total $533, which would be a small improvement from the $540 billion deficit they predict for 2012 and a larger improvement from the 2011 trade deficit of $546.6 billion. The US balance of trade has been decreasing since the early 1990s. It began to rise in 2006, but began to drop again in 2009. The US has not had a trade surplus since 1975.
You can share this story on social media: