US military 'ready to go' if Syria attack ordered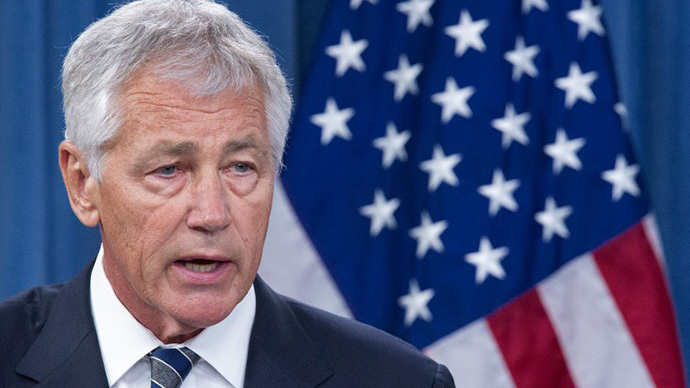 The US military have moved up their assets and are ready to take any action on Syria ordered by President Obama, US Defense Secretary Chuck Hagel said Tuesday, amid building international pressure over last week's alleged chemical attack near Damascus.
"We have moved assets in place to be able to fulfill and comply with whatever option the president wishes to take," Hagel told the BBC in an interview. 
Hagel added that there were a range of options available, from doing nothing to a limited cruise missile strike, or to boots on the ground – in the style of the 2003 invasion of Iraq. 
Should the order be given, US forces were "ready to go, like that," he said.

However, a senior US administration official said Tuesday that Obama has made no decision to take military action against the Syrian government.
The Defense Secretary pointed out no decision would be made until more facts had been gathered about the alleged chemical weapons attack, which killed anywhere from dozens to 1,300 people in Syria last week. 
Hagel said he believed it was "pretty clear chemical weapons had been used in Syria" and that intelligence would prove that it wasn't the rebels who used them. 
"It's clear that the government of Syria was responsible," he said. 
When asked what he thought about Russian Foreign Minister Sergei Lavrov's comments that any attack on Syria would breach international law, Hagel indicated that he didn't think a UN resolution would be sought and that no nation "is bound by only one dimension of whether they make a decision to respond to the kind of humanitarian violations we saw in Syria." 
He denied that the US was now duty bound to launch a strike on Syria, after Obama's comments earlier this year that Assad would cross a "red line" if he used chemical weapons.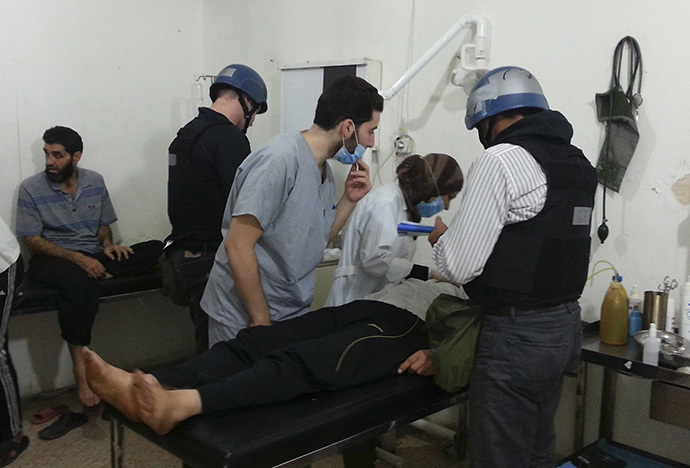 "Let's get the facts, let's get the intelligence and then a decision will be made on whether caution should be taken, what action or no action." 
Hagel's comments come after US Secretary of State John Kerry appeared to lay the groundwork for military action, saying that Obama believed there needed to be "accountability" for the use of chemical weapons. 
A US official said that any military strikes could be launched "as early as Thursday", it was reported in the US media.
The official added that "three days" of strikes would be limited in scope and would be aimed at sending a message to the regime of President Bashar Assad.

Military action in Syria 'within days' – sources
Meanwhile, the prospect of military action against Syria appeared to come a step closer after western powers told a meeting with Syrian opposition envoys that they should expect a strike against President Assad's forces within days, sources revealed to Reuters. 
The meeting was at a hotel in Istanbul was between senior figures of the Syrian National Coalition, including president Ahmad Jarba and envoys of countries comprising "Friends of Syria" group, which included Robert Ford, the top US official handling Syria. 
"The opposition was told in clear terms that action to deter further use of chemical weapons by the Assad regime could come as early as in the next few days, and they should prepare for peace talks in Geneva," the source said. 
UN weapons inspectors trying to determine what happened during last week's attack were able to access the area to talk to survivors despite being shot at while traveling in government-controlled territory Monday. They put off a second visit until Wednesday. 
Western powers have faced Russian and Chinese disapproval of nay potential military action in Syria, which could dampen the chance of proposed peace talks in Geneva.
Russian Foreign Minister Sergei Lavrov stated Monday that the fallout from the alleged chemical attack was aimed at stalling the proposed Geneva peace talks. "The opposition does obviously not want to negotiate peacefully," Lavrov said. 
Russia's President Vladimir Putin said in a phone call to Cameron on Monday that he "did not have any evidence of whether a chemical weapons attack had taken place and who was responsible."

You can share this story on social media: