US accuses Syrian government of using chemical weapons and destroying evidence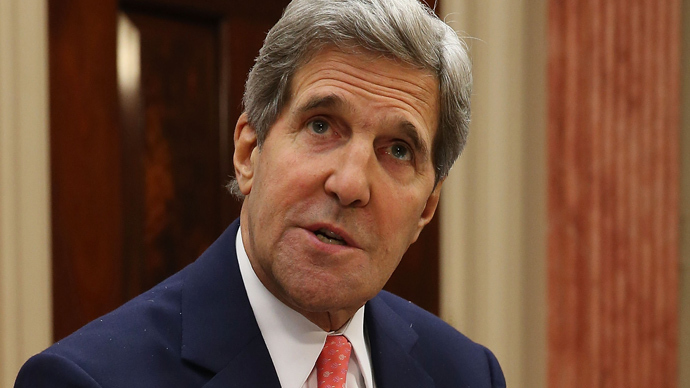 Secretary of State John Kerry said on Tuesday that the Obama administration is "all but certain" that the Syrian government used chemical weapons to attack innocent civilians.
Sec. Kerry made a statement from Washington, DC on Monday afternoon underscoring  that the White House has little doubt the regime of Syrian President Bashar al-Assad deployed chemical weapons on the outskirts of Damascus last week, killing hundreds.
Reports from Syria of chemical warfare "should shock the conscience of the world," Kerry said, adding that the indiscriminate slaughter of women and children carried out by the Assad regime constitutes a "moral obscenity."
President Barack Obama has yet to make a determination about how the US will respond, Kerry said, but a decision would be forthcoming. The US has already mobilized warships in the Mediterranean Sea which may begin striking Syrian target upon permission from Washington.
Kerry said the White House has "additional information" about this attack that is being compiled and reviewed by the administration and will be released in the days ahead.
 "While investigators are gathering additional information on the ground, our understanding of what has already happened in Syria is grounded in facts, informed by conscious and guided by common sense," Sec. Kerry said. "The reported number of victims, the reported symptoms of those who were killed or injured, the first hand accounts from the humanitarian organizations on the ground . . . these all strongly indicate that everything these images are already screaming at us are real: that chemical weapons were used in Syria."
"Moreover, we know that the Syrian regime maintains custody of these weapons," Kerry added.
Pres. Assad had been uncooperative with the United Nations' requests to inspect military compounds for chemical weapons until this week, Kerry said, and a UN convoy sent to investigate this week reportedly found what the secretary called a "cynical attempt" to cover up a "cowardly crime."
"That is not the behavior of a government that has nothing to hide. That is not the action of a regime eager to prove to the world it had not used chemical weapons," said Kerry. Rather, the official said the Assad regime's latest actions are "too late to be credible."
"Make no mistake," he added, "President Obama believes there must be accountability for those who would use the world's heinous weapons against the world's most vulnerable people."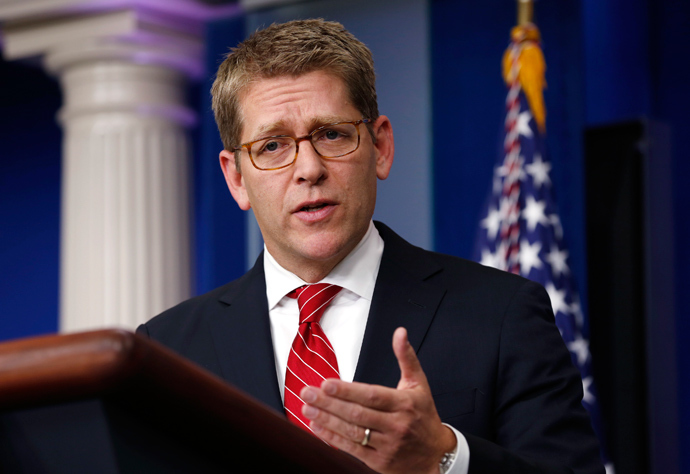 Meanwhile, Russian President Vladimir Putin said Monday during a phone call with British Prime Minister David Cameron that there is no evidence such an attack had occurred.
"President Putin said that they did not have evidence of whether a chemical weapons attack had taken place or who was responsible," a British government spokesperson said after the meeting.
Without specifically naming those who disagree with the White House's narrative, Kerry said Monday that anyone willing to ignore or forget the human suffering witnessed in Syria last week must "Check their conscious and their own moral compass."
Later in the afternoon, White House press Secretary Jay Carney weighed in with a statement of his own saying that the use of chemical weapons on a widespread scale outside of Damascus on August 21 was "undeniable."
"What we are talking about here as Secretary Kerry made clear is a response to the clear violation of an international norm, and it is profoundly in the interest of the United States and the international community that that violation of an international norm be responded to," Mr. Carney said. "The indiscriminate killing of innocent women and children and an attempt to maintain his bloody grasp on the power is despicable, but that is what we've come to expect from Bashar al-Assad."
The president's spokesperson added that the proof of a chemical warfare attack "comes from sources well beyond the US government," and said Mr. Obama is discussing America's options with the nation's allies and members of Congress, opening up the possibility that lawmakers on Capitol Hill could approve a military strike to occur in the coming days.
"The president makes decisions about military action or potential military action with the national security interests of the United States in mind. There is no weightier decision for the president and he has made that...clear," Mr. Carney said.
You can share this story on social media: