Syria chemical attack response possible without unanimous UN backing - UK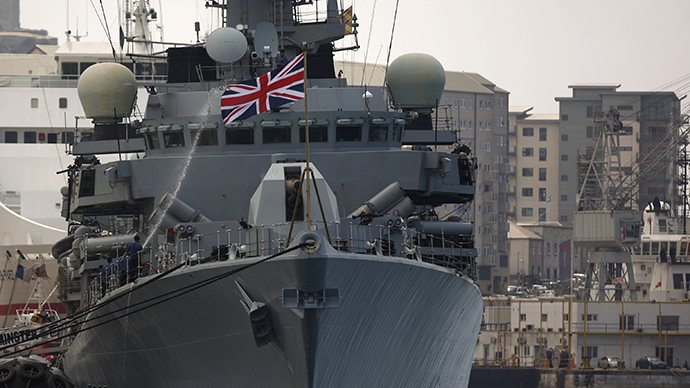 A response to the use of chemical weapons in Syria is possible without the unanimous consent of the UN Security Council, UK Foreign Secretary William Hague has said.
"I would argue yes it is, otherwise it might be impossible to respond to such outrages, such crimes, and I don't think that's an acceptable situation," Hague said on BBC radio, when asked whether it would be possible to respond to the use of chemical weapons without the backing of the UN Security Council.
Meanwhile, Britain's Royal Navy is reportedly moving ships into place for a possible strike with the US on Syria in the next few days.
Citing government sources, British newspaper The Telegraph wrote that as military commanders were discussing a list of potential targets, the Royal Navy is deploying vessels for a series of cruise missile strikes on Syria.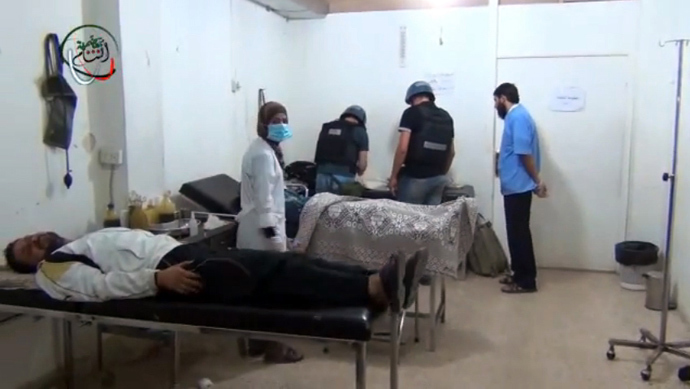 Since last week's chemical weapons attack on a Damascus suburb that reportedly left over 300 civilians dead, political rhetoric has been building against President Bashar Assad, alleging the regime carried out the attack against its own citizens. On Sunday, Britain added its voice to the chorus of countries urging for intervention in Syria.
Foreign Secretary William Hague condemned the Assad regime, stating that "all the evidence points in one direction."
"We cannot, in the 21st century, allow the idea that chemical weapons can be used with impunity, that people can be killed in this way, and there are no consequences for it," he said.
Branding Assad a dictator, Hague stressed a "strong response" was essential in light of the use of chemical weapons to "slaughter" Syrian citizens.
British Prime Minister David Cameron has also chosen to cut short his summer break and return to the UK to chair a Security Council meeting on Wednesday. Deputy Prime Minister Nick Clegg has also canceled a planned trip to Afghanistan in order to attend a national security council meeting on the situation in Syria.
Following widespread calls that MPs reconvene before any action against Syria is taken, Downing Street said a decision on whether to recall Parliament would be taken on Tuesday.
'It must be punished'
On Monday, US Defense Secretary Chuck Hagel said any action taken against Syria would only be done in concert with the international community and within a legal framework, Reuters reports.
Hagel, speaking to reporters during a trip to Indonesia, refused to comment on military options being mulled by the White House or if a military response was forthcoming.
A senior US official said Hagel would reach out to his British and French counterparts to discuss the situation in Syria.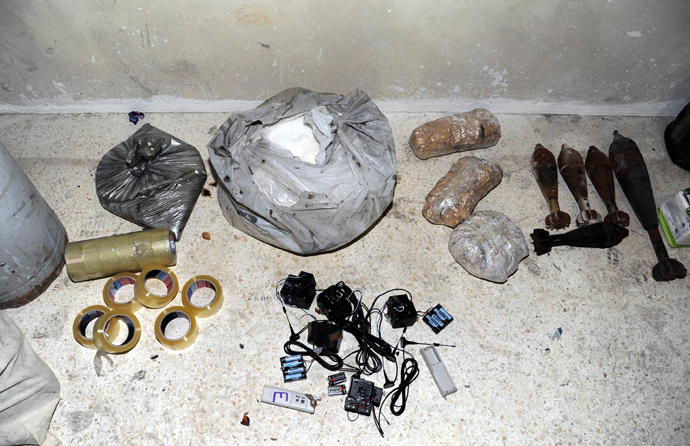 Germany also implied for the first time that it would support an international military response against Syria if it were confirmed that Syrian government forces deployed chemical weapons last week.
Chancellor Angela Merkel's spokesman Steffen Seibert said Monday that if the UN team confirmed the Syrian government's deployment of chemical weapons, "it must be punished."
Seibert says the government has "very clear evidence that this was a chemical weapons attack." He would not elaborate on what kind of response would be warranted, although he did not rule out the use of force.
Foreign Minister Guido Westerwelle also said that if an attack is confirmed, "Germany would be among those who consider consequences to be appropriate."
Merkel pressed for a political solution to the Syrian conflict over the weekend.
Turkish Foreign Minister Ahmet Davutoglu also said Turkey would participate with any international coalition moving against Assad if the United Nations failed to draft sanctions against Syria in response to the alleged chemical weapon attack.
Davutoglu said that while acting within the framework of the UN was a top priority, the country would join a coalition if no United Nations mandate was forthcoming, he said in comments published in the Milliyet daily.
He added that around three dozen countries were currently discussing options.
Iraq redux?
Syrian President Bashar Assad responded to the calls for an international reaction to the chemical attack, warning that any international intervention in Syria would end in failure.
"The comments [accusing the regime of using chemical weapons] made by politicians in the West and other countries are an insult to common sense... It is nonsense," Assad said, adding the accusations were completely "political."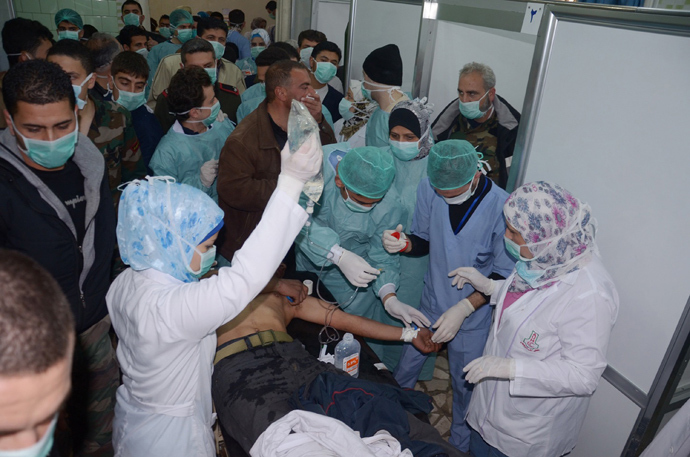 Russia also urged caution, calling on Washington to avoid "repeating past mistakes."
"All of this makes one recall the events that happened 10 years ago, when, using false information about Iraqis having weapons of mass destruction, the US bypassed the United Nations and started a scheme whose consequences are well known to everyone," the Russian Foreign Ministry said in a statement.
Moscow has also said a UN investigation into last Wednesday's attack is of paramount importance and it was essential that its results were not influenced before time.
On Monday, Russian President Vladimir Putin and British Prime Minister David Cameron discussed the situation in Syria by telephone. The details of this discussion were not made public.
A team of UN experts arrived at the site of the attack on Monday in the Damascus suburb of Ghouta, however doubts have already been raised over the validity of an investigation.
Washington has already alleged that an investigation would be "too late to be credible." The British government echoed the US, stating that valuable evidence could have been destroyed in subsequent bombing of the area or tampered with.
"The fact is that much of the evidence could have been destroyed by that artillery bombardment. Other evidence could have degraded over the last few days and other evidence could have been tampered with," Hague told reporters on Saturday.
The toxic gas attack in Ghouta triggered a wave of media hysteria with mixed reports alleging that thousands had been killed. On Saturday, French charity Medecins sans Frontieres (Doctors without Borders) said that 355 people had died and over a thousand were exhibiting systems related to neurotoxic poisoning. However, the non-profit organization said it was impossible to discern who was behind the attack.
You can share this story on social media: