Syria crisis: Moscow reminds US of Iraq mistakes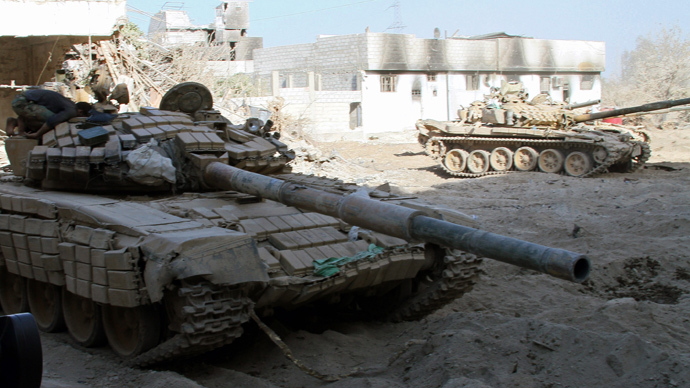 The US sees "very little doubt" Syria used chemical weapons against civilians - something President Obama had described as a "red line." However, Moscow has reminded Washington of similar mistakes over Iraq, and warned it not to breach international law.
A senior Obama administration official said on Sunday that the US intelligence community based its assessment on "the reported number of victims, reported symptoms of those who were killed or injured, and witness accounts," AP reports.

This comes as the US military has presented President Barack Obama with potential options for action in Syria and US Secretary of Defense Chuck Hagel has indicated the Pentagon is ready to exercise these options, should Obama give the order.

Russia warned that the alleged chemical attack could have been a staged "provocation" by the Syrian opposition forces and said US rhetoric recalled the allegations preceding the invasion of Iraq.

"All of this makes one recall the events that happened 10 years ago, when, using false information about Iraqis having weapons of mass destructions, the US bypassed the United Nations and started a scheme whose consequences are well known to everyone," the Russian Foreign ministry said in a statement.

"Once again we call not to repeat past mistakes, not to allow actions that contradict international law," the ministry said.

On Sunday Syria gave the "green light" for UN experts to visit the site of an alleged chemical weapons attack in a Damascus suburb. The UN said its chemical weapons experts will start probing the site in the suburb of Ghouta as early as Monday.

Moscow has welcomed the move but has called on all the sides, "trying to influence the results of the investigation in advance," not to "make tragic mistakes."  

However Washington has not been satisfied with the agreement, saying that Syria's offer to allow UN inspectors access to the attack site was "too late to be credible." 
Meanwhile the Pentagon is moving naval forces closer to Syria in preparation for an order to attack from Obama. Reports say that among the military options under consideration are missile strikes on Syrian units believed to be responsible for the chemical attack, or on Assad's air force and ballistic missile sites.

Reports suggest the British navy is also preparing to take part in a possible series of cruise missile strikes. According to The Telegraph citing sources within the UK government, military action that was agreed could begin within the next week.

You can share this story on social media: