Deadly cold snap in US shatters temp. records, sends even polar bears to shelter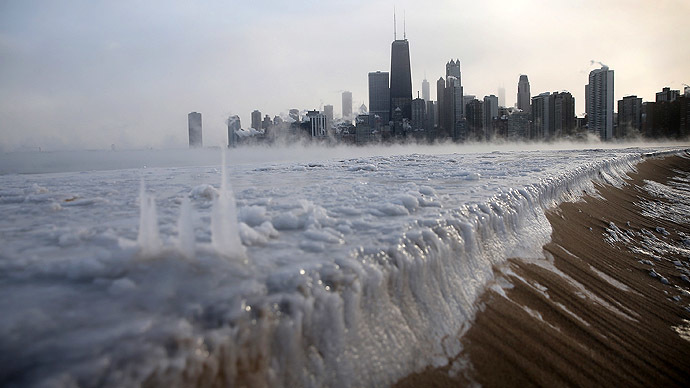 Record freezing temperatures gripped the entire US, including Hawaii, as a major winter storm hit the country. The alarming weather brought ice and heavy snowfall caused by a 'polar vortex', bringing many cities to a standstill and killing at least 21.
The 21 fatalities included a 1-year-old Missouri boy, who died when a car he was riding in was hit by a snow plow, AP reported.
Authorities in many states called on people to stay indoors, because the cold made usual daily activities risky and sometimes life-threatening. One of those following the advice was a Kentucky prisoner, who had escaped from a minimum-security facility in Lexington, but turned himself in because of cold temperatures.
Unreal: This is how the south shore of Long Island looked this morning http://t.co/FEotDR6b2Tpic.twitter.com/zoJixBTt9f

— Newsday (@Newsday) January 7, 2014
Nearing zero visibility in Adams, NY. 45 mph wind gusts, heavy snow, impassible by car up here. @nbcnightlynewspic.twitter.com/bEoxCJXDur

— Katy Tur (@KatyTurNBC) January 7, 2014
Robert Vick, 42, of Hartford who escaped Blackburn Correctional Center on Sunday, walked into a motel and asked the clerk to call police on Monday.
"This was definitely of his own volition," said Lexington police spokeswoman Sherelle Roberts. "It's cold out there, too cold to run around. I can understand why the suspect would turn himself in."
The Lexington Fire Department treated the inmate for hypothermia on Monday evening, she added. The prisoner is serving a six-year sentence for burglary and criminal possession of a forged instrument [bad credit card or check].
Top story on @reddit, photo showing what happens when you open your car door at -24F. pic.twitter.com/ZuOHqmTBzo

— Eric Berger (@chronsciguy) January 7, 2014
The cold, which affected an estimated 190 million in the US, was too much even for a polar bear at the Lincoln Park Zoo in Chicago. While normally the species is able to survive Arctic winters, the zoo's, Anana, lacks the necessary thick layer of fat, so she was kept inside on Monday.
The cold snap broke numerous temperature records for January 7 across the country, some of which had stood for many decades. New York City plummeted to -15 degrees Celsius, beating the previous record of -14 degrees set in 1896. Temperature in Charlotte, North Carolina, went as low as -14 degrees, breaking the -12-degree record of 1884.
Even states not usually associated with ice, saw temperatures going sub-zero on Tuesday. It was -8 degrees Celsius on top of Hawaii's dormant volcano, Mauna Kea. Florida's coastal city of Pensacola experienced temperature of -8 degrees.
Earlier photo was St Joseph, MI, last year by John McCormick. Photo of same lighthouse today from @startvisiting. pic.twitter.com/by4p62b7AD

— John Heilemann (@jheil) January 7, 2014
The Arctic vortex's impact on America reached as far as Earth orbit. The commercial spaceflight company, Orbital Sciences, has delayed the launch of its first Cygnus Cargo delivery mission to the International Space Station (ISS) due to cold weather. The rocket was intended to be launched on Tuesday from a pad at NASA's Wallops Flight Facility on Wallops Island, Virginia.
"While we are preserving the option to launch on January 8, it is more likely that the launch will take place on Thursday, January 9, because of a much improved weather forecast for later in the week," Orbital Sciences officials said in a statement released late on Friday.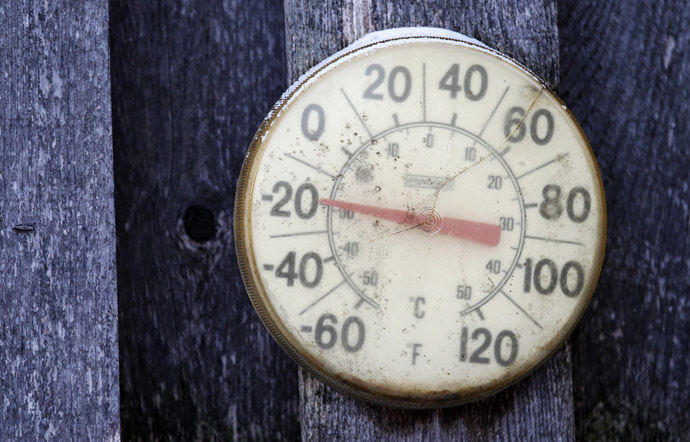 The cold snap sent energy consumption through the roof. On Tuesday the demand for natural gas in America set a new record, beating the one set on the previous day, according to Jack Weixel, director of energy analysis at Bentek Energy. Tennessee Valley Authority said on Tuesday that morning power demand had reached the second-highest peak in the history of the Depression-era-established utility.
In South Carolina, a large utility used 15-minute rolling blackouts to handle demand, but there were no reports of widespread outages in the South.
The snow and cold disrupted air traffic, with more than 11,000 flights canceled over four days.
Hell has frozen over
The cold weather has put a rare spotlight on a Michigan hamlet with a population of less than 300 by the name of Hell, which has opened itself to innumerable "Hell has frozen over" puns from opportunistic TV reporters and amused Twitter users.
On Wednesday, the temperature in the settlement plummeted to -21 C, and the inhabitants were seen rescuing each other. The town also won an unofficial competition with its normally colder rival, Hell, in Norway, where the temperature hovered around 0 Celsius.
The Michigan hamlet says it got its name from the whisky distillery that spawned it. After husbands from nearby farms would go for part-time work at the distillery, where they would inevitably be paid in kind, their wives would say "He's gone to Hell". The name stuck.
You can share this story on social media: