US pressures Saudis to increase oil production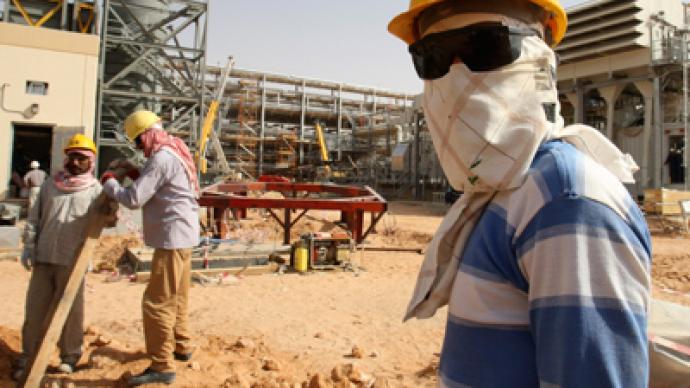 Preparing for a potential shortage later this year, the United States is asking Saudi Arabia to increase their crude output in the coming months to counter any catastrophe that could arise over an international oil deficit.
Tensions between Iran and the United States and its allies have prompted many America-aligned nations to suspend their contracts with the Persian Gulf oil providers. Although only a small section of the modern world relies on Iran for their resources, increasing hysteria over a potential but unlikely shortage has caused oil prices to skyrocket. In turn, gas price discussions have reemerged as a talking point within US politics as Americans become irate with the surging cost of crude.The US has previously appealed to Saudi Arabia to cut a deal with India, a country that traditionally relies on Iran for their oil needs. In an attempt to further cripple Iran's economy and ideally encourage its leaders to abandon a rumored nuclear warhead procurement plan, American officials were pleading with India to cut its ties with Iran and in turn go elsewhere for their energy needs. Now in their latest proposal for the Saudis, the United States is asking them to not just take on a new business partner, but to up their own operation in order to prepare for any possible disruption by added sanctions on Iran.Early reports over the talks suggest that Saudi officials have tentatively agreed to consider taking action, but are not wholeheartedly endorsing the idea of usurping Iran as the oil production house of the east."We don't want to replace Iranian oil, and we never said we wanted to. We will step in and fill any gap in the market if needed," an oil official for the Gulf state tells the Wall Street Journal this week. "No one is happy with the current situation about the Iranian sanctions. Neither the Americans, the Europeans or Asians are pleased with it."Addressing the issue with Reuters, another Gulf official adds, "There were talks held between Saudi and the US, and the US asked if Saudi could be accommodating once the sanctions take effect in July. And the Saudi response was that it was ready to meet demand in the market if required, but would not like to take part in the politics."Shihab Eldin, the former head of research at OPEC, acknowledges that patience is indeed running thin between the nations at odds and that, regardless of if Saudi enters an agreement with India or other countries, an eruption anymore severe in Iran could be catastrophic. "The geopolitical tensions around the Persian Gulf are much more real than before. I hope we will pass 2012-2013 without some kind of a flash point, "Eldin tells the Tehran Times.With recent polls out of America showing that rising oil prices are a top concern for the voting public, US President Barack Obama's popularity has slipped in recent weeks. Unable to counter continuously surging prices, the president's Republican Party opponents have gone after him and proposed their own solutions intended to get America back on track. "Despite the gains we've made, today's high gas prices are a painful reminder that there's much more work to do free ourselves from our dependence on foreign oil and take control of our energy future," President Obama responded on Monday. "And that's exactly what our administration is committed to doing in the months ahead."Elsewhere in the months ahead, the Saudis are expected to be busy as well. A Saudi official speaking to Reuters adds that they do not predict an immediate change in production procedure, but could in three months' time see an output of 12.5 million barrel of crude each day. Currently the Saudis produced 9.8 million barrels daily, with 10 million being the record high.
You can share this story on social media: