US military doctors participate in torture of detainees, report says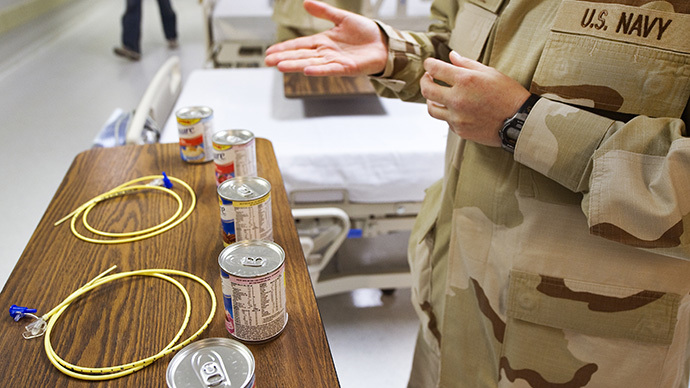 An independent report has charged that medical personnel, working under the direction of the Department of Defense and CIA in military defense facilities, violated medical ethics by participating in the torture of detainees.
The services provided by American doctors and psychologists included "designing, participating in, and enabling torture and cruel, inhumane and degrading treatment" of detainees, according to the report. 
The 19-member task force concluded that since September 11, 2001, the Department of Defense (DoD) and CIA ordered medical professionals to assist in intelligence gathering, as well as forced-feeding of hunger strikers, in a way that inflicted "severe harm" on detainees in US custody.
The authors of the 269-page report, entitled "Ethics Abandoned: Medical Professionalism and Detainee Abuse in the 'War on Terror'" is based on information from unclassified, publicly available information.
The task force revealed that a "theory of interrogation" emerged in US detention facilities, including Guantanamo Bay detention camp, that was based on "personality disintegration" as a means of breaking down the resistance of the detainees in an effort to extract confessions and information.
Over time, new interrogation methods were developed by interrogators and psychologists from techniques used in the pre-9/11 Survival, Evasion, Resistance, Escape (SERE) program that was designed for training US troops to withstand interrogation and mistreatment techniques in the event they were captured.
The interrogators and medical professionals transformed torture-resistant tactics into abusive methods of interrogation, which they employed on detainees. This included so-called 'enhanced interrogation' techniques, such as waterboarding, which involves covering a restrained detainee's face with a towel and then soaking it with water. The technique is said to induce a feeling of drowning and complete helplessness.
The detainees are not permitted to receive treatment for the mental anguish caused by their torture.
The report also gave special mention to the Bush administration, which declared that the legal safeguards regarding the treatment of prisoners of war set down in the Geneva Convention did not apply to the "unlawful combatants" (i.e. terrorists) in the War on Terror.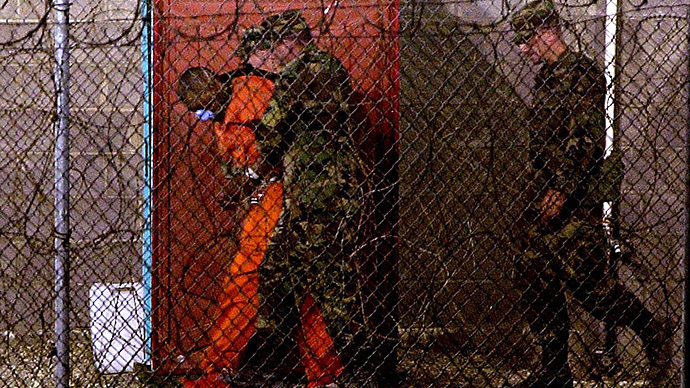 The lack of any judicial restraints on the part of the military and medical personnel involved opened the door to "cruel, inhumane and degrading treatment" of prisoners at GITMO under both the Bush and Obama administrations.
Task Force member, Dr. Gerald Thomson, Professor of Medicine Emeritus at Columbia University, said physicians violated medical code of conduct by willingly becoming "agents of the military."
"The American public has a right to know that the covenant with its physicians to follow professional ethical expectations is firm regardless of where they serve," Dr. Thomson said in a released statement. "It's clear that in the name of national security the military trumped that covenant, and physicians were transformed into agents of the military and performed acts that were contrary to medical ethics and practice." 
The medical community has "a responsibility to make sure this never happens again," he added.
The authors cited a number of sources that informed their study, including recently published accounts of force-feeding hunger-striking detainees, a 2008 Senate report on the treatment of terrorists in custody, and a Red Cross probe of CIA interrogation measures that was leaked to the New York Times.
Dr. Thomson summarized the feelings of many people when he called the participation of physicians in the torture and interrogation of detainees a "big striking horror." 
"This covenant between society and medicine has been around for a long, long time — patient first, community first, society first, not national security, necessarily," he continued. "If we just ignore this and satisfy ourselves with the (thought that), 'Well, they were trying to protect us,' when it does happen again we'll all be complicit in that."
Meanwhile, a spokesman for the Department of Defense, Lt. Col. J. Todd Breasseale, reviewed the charges contained in the report and called them "wholly absurd."
"The health care providers at the Joint Strike Force who routinely provide not only better medical care than any of these detainees have ever known, but care on par with the very best of the global medical profession, are consummate professionals working under terrifically stressful conditions, far from home and their families, and with patients who have been extraordinarily violent," Breasseale told NBC News.
Arthur Caplan, head of the division of medical ethics at NYU Langone Medical Center, said the medical personnel working at Gitmo may believe they are doing something valuable for society. 
"What I've seen over the years is that people (doctors) who don't want to do that, don't. They find ways to avoid it, get out of it, or get reassigned," Caplan told NBC News. "But for someone who does it, that doctor's impulse may be to say: 'I want to fight terrorism. I want to get information that protects the American people.' They think they're doing the right thing." 
You can share this story on social media: