Budget cuts leave US Army with only 2 fully-trained brigades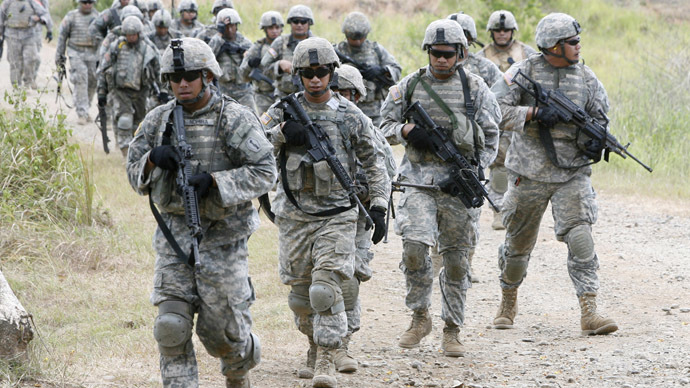 Massive budget cuts in the US have forced the Army to cut corners on training, leaving only two brigades prepared for war. Military commanders have warned of a serious backlash if the White House continues to slash budgets.
At an annual conference for the Association of the US Army, military leaders voiced criticism of the spending cuts that are having a detrimental effect on the armed forces.

General Ray Odierno, the Army's chief of staff, attacked the government for the climate of economic instability that has forced the military to cut corners.

"And there's going to come a time when we just simply don't have enough money to provide what I believe to be the right amount of ground forces to [carry out]... contingency operations," Odierno told the media.

He stressed that because of the cuts to the military budget they were forced to cancel six months of military training, leaving the US Army with only two fully-trained brigades. A brigade can contain between 3,500 and 5,000 soldiers.

With the onset of the Iraq and Afghanistan conflicts the US military grew by about 570,000 personnel over the last decade. As the Obama Administration withdraws forces from these countries, officials are planning to scale down the military, cutting the number of brigades from 45 to 33.

"The worst-case scenario is you ask me to deploy thousands of soldiers somewhere and we have not properly trained them to go because we simply don't have the dollars and money because of the way sequestration is laid out," Odierno said, referring to automatic budget cuts.

The next government sequester is set to take place in January of next year and it could potentially see the Defense Department's budget slashed by $21 billion.

Technology vs. manpower
The Department of Defense is currently carrying out the 'Quadrennial Defense Review', a study that assesses Pentagon spending. Odierno said that had been suggested that manpower could be replaced with technology.

"There are lots of different opinions out there. There are people that want to change how the Army fights, and they believe we don't need ground forces, that we can do everything with technology, stand-off weapons, missiles," he said.

However, Army Secretary John McHugh, who also spoke at the conference, said that the budget cutbacks had also caused big delays in weapons and military equipment orders, including "high priority projects for a new armored vehicle and new communications networks."

US finances were put under further strain by the government shutdown that could have a knock-on effect on next year's military budget.

Last week the US brought an end to the three-week deadlock that did significant damage to the economy. Moody's Analytics estimate that the shutdown could cost the US up to $50 billion.


You can share this story on social media: