US Mayor to resign over racist watermelons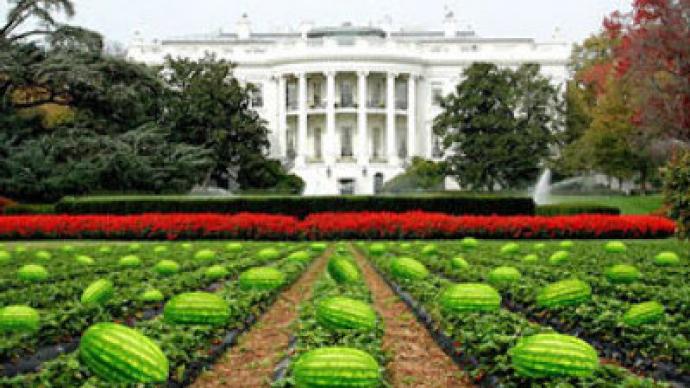 The mayor of a small Southern Californian city of Los Alamitos stepped on some toes when he sent a racially-insulting email to what he described as a "close group of friends".
The email featured a picture that was mailed out from the mayor's personal account depicting the lawn in front of the White House filled with watermelons. The caption underneath it stated: "No Easter egg hunt this year." This, according to critics, evokes messages of a stereotype, which describes African-American people liking watermelons and chicken.
The mayor's actions were made public when one of the recipients of the email publicly scolded him for its contents. Local businesswoman and city volunteer Keyanus Price, who is black, reported receiving the e-mail from Grose's personal account on Sunday and wants a public apology.
"I have had plenty of my share of chicken and watermelon and all those kinds of jokes," Price told The Associated Press. "I honestly don't even understand where he was coming from, sending this to me. As a black person receiving something like this from the city-freakin'-mayor… Come on!"
Grose confirmed to the AP that he sent the e-mail to Price and said he didn't mean to offend her. He said he and Price are friends and serve together on a community youth board.
"Bottom line is, we laugh at things and I didn't see this in the same light that she did," Grose told the AP. "I'm sorry. It wasn't sent to offend her personally, or anyone, from the standpoint of the African-American race."
Mayor Dean Grose issued a statement on Thursday saying he regrets his actions and will step down as mayor at the City Council meeting on March 2 since he has discredited himself. According to Grose, he was unaware of the stereotype that black people liked watermelons.
In his public apology for the email, the mayor wrote:
"I am deeply embarrassed… It was poor judgment on my part and was never intended to be offensive to Ms. Price, your company or anyone in the African American Community…. You can be assured that I will not allow this to happen again. I in no way was representing the City of Los Alamitos, or my role as a council member in sending this out and it went via my private business email. That doesn't justify the fact that it was sent, however, we gratefully appreciate the contributions that your company makes to our community and I wish to publicly apologize to anyone within the firm or organization that may have been offended."
Nevertheless, the regrets expressed by the mayor did not appear to have worked and, driven by a landslide of scolding public opinion, Grose will be forced to resign.
You can share this story on social media: