US lost almost half a billion dollars due to Daylight Saving Time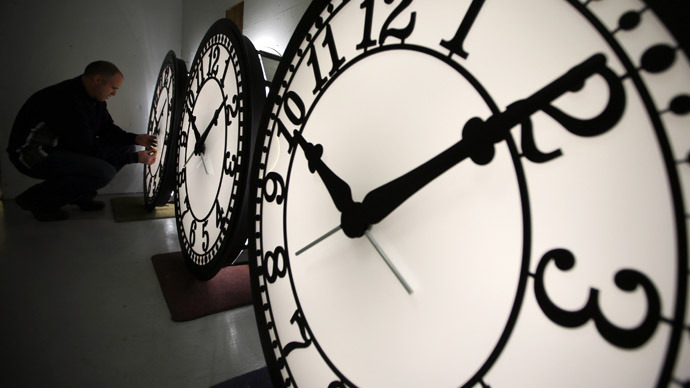 Americans lost more than just an hour of sleep when they set their clocks ahead over the weekend to switch to Daylight Savings Time: a new report says the transition took nearly half a billion from the US economy.
The Carpenter Co. commissioned the group Chmura Economics & Analytics to conduct a study in order to see what the real cost of the annual transition is, aside from just losing 60 minutes of slumber. The results, a report entitled "Estimating the Economic Loss of Daylight Saving Time for US Metropolitan Statistical Areas," concludes that the total price of pushing the hour hand ahead is roughly $433,982,548.00 for the United States — or around $1.65 per person.
Chmura says they came to their conclusion after going through peer-reviewed academic journals where the aspects of economic losses are shown with solid evidence. The result, they report, is that the annual DST change is linked to an increase in heart attacks, workplace injuries in the mining and construction sectors and "increased cyberloafing that reduces productivity for people who typically work in offices."
The group says they studied more than 300 Metropolitan Statistical Areas (MSA) in the United States to come to their findings. Of those they researched, four of the five regions with the biggest loss the day DST kicks in all include areas of West Virginia. The West Virginia Office of Miners' Health, Safety and Trainins reports that coal occurs naturally in 53 of the 55 counties in the state, and that more than $3.5 billion annually of the gross state product comes from the natural resource. Also hit hard was the Kingsport-Bristol region near the Tennessee/Virginia border and sections of Florida.
At number 349 on the list of cities struck hardest by Daylight Saving Time is the greater Washington, DC metro area, which includes parts of Maryland, Virginia and that state's coal-rich neighbor. Chmura Economics say that the one lost hour this week left DC losing nearly $7 million, but when is Washington not to blame for the country's economic woes?
You can share this story on social media: