US loses $450 mln worth of fuel in Afghanistan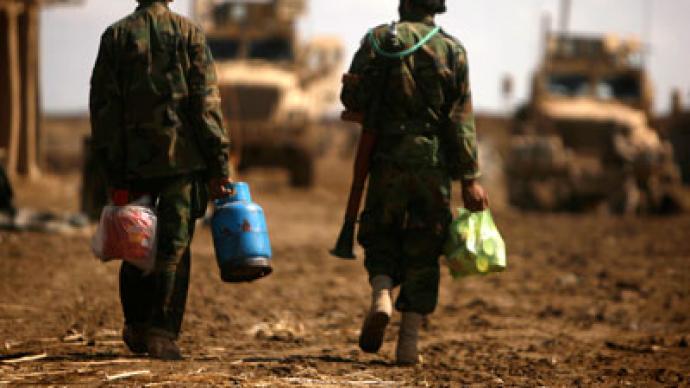 The US-led NATO command, which trains the Afghan army, is under investigation for shredding records of fuel purchases for the Afghans totaling nearly $475 million.
The training command does not know whether the fuel it delivers to the Afghans is used or stored, Reuters reports. Some officials are concerned that some of the fuel could have been lost, stolen or diverted to the insurgency.
Accountability for the fuel is especially important,  since the $1.1 billion program supplying fuel to the Afghan army will be taken over by the Kabul government in less than four months.
With each passing year, the US has been spending millions more on fuel for Afghanistan. For 2012, commanders requested $306 million. For 2013 and 2014, they requested $466 million and $555 million, respectively.
To accommodate the increased fuel budget, the US-led international training mission in Afghanistan would have to cut down on its combat operations, border patrols and other missions by 37 percent.
John Sopko, the Special Inspector General for Afghan Reconstruction (SIGAR), which looks into criminal and civil cases of fraud, waste and abuse, said in a letter addressed to Defense Secretary Leon Panetta that he was investigating the record-shredding, which was the responsibility of the Combined Security Transition Command-Afghanistan (CSTC-A).
The CSTCA-A told the investigator's office that it had shredded all financial records of Afghan fuel payments that totaled almost $475 million from a four and a half year period ending in 2011.
The record-shredding of war documents violates government policies – and the US Army Central Command specifically instructed financial managers not to destroy them, Sopko wrote in the letter.
The report said that the Defense Department and NATO "should work together immediately to establish clear guidelines to ensure that this money is not misused. These problems must be fixed before the command transfers responsibility for these contracts to the Afghan National Army and provides hundreds of millions of dollars directly to the Afghan government."
The SIGAR report stated that millions of dollars in fuel funding should be cut until international forces determine how many vehicles and generators are used by the Afghan National Army – to help determine how much fuel is actually needed.
Commanders quoted in the report say that the Afghan army is rapidly expanding its forces, making it impossible to make an accurate estimate of fuel use. Recently, 10,000 to 15,000 Afghans have been joining their country's army each month, the Associated Press reports.
As the investigation of the record-shredding continues, the US is getting ready to hand over responsibility of the fuel program to the Kabul government. The US will continue to pay to fuel Afghanistan's army, but it must commit to better spending controls before handing over the budget.