United States refuses to condemn Nazis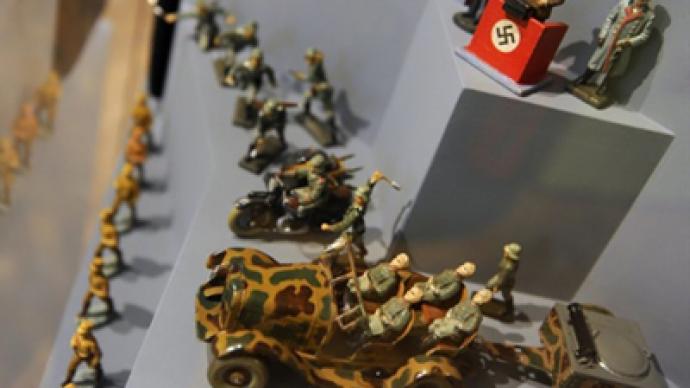 While 129 countries at the UN GA adopt a resolution against glorifying Nazism, the U.S. votes against it. RT unveils some of the skeletons in America's closet.
In New York, the United Nations General Assembly has adopted a Russia-proposed resolution calling upon member-states to fight against the glorification of Nazism.But the U.S. turned out to be the only major world power who voted against this document, which was supported and adopted by a "yes" vote from 129 countries. As is often the case with American politics and diplomacy, there is more to this story than meets the eye.Something Americans don't talk about, this story is nowhere to be seen in the mainstream media, is information that has been leaked over the last couple of years with documents being declassified, revealing U.S. cover-ups of former Nazis and cooperation with them after the Second World War. Nazi soldiers that were "useful" for the U.S. in the fight against the Soviet Union during the Cold War.This is not something many countries would be proud of. But America had its interests and when the U.S. wants something, standards and morals often fly out of the window.Even more curious is the case of the Baltic Waffen SS, working with the Nazis in the Second World War, many reports have revealed that the U.S. made great use of them in the years after the defeat of Nazi Germany. Nowadays, a country like Latvia (a Baltic state) is the only one that presents former "SS" soldiers as war heroes, calling Russia an occupant when it was actually fighting the Nazis, holding parades glorifying themselves, and destroying Soviet war memorials. While the majority of nations around the world condemn this, the U.S. is a big supporter of Latvia and other Baltic states. The Baltic lobby in the U.S. is powerful, and it's not hard to connect the dots between historic facts and the events of today.Over half a century later, passions are apparently still strong. Some experts say American attitudes stem from a certain nuance of political mentality, never looking back in time and never apologizing for mistakes of the past. Even if what this takes is refusing to act against glorifying Nazism.
Grigory Lukiyantsev from the Human Rights and Social Issues Division adds"The UN was established as a direct response to World War II, therefore it is extremely important to uphold the founding principles of the organization. Unfortunately, there have been certain attempts to rewrite history and to portray people who fought for Hitler as the victims."
You can share this story on social media: