Let bygones be bygones: Russia and Latvia seek to overcome past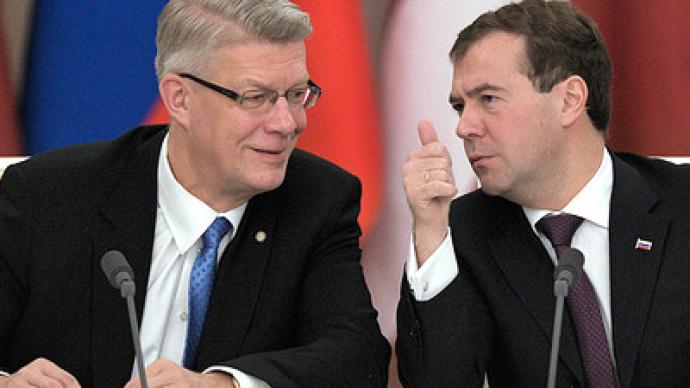 Russia and Latvia are optimistic over the future development of bilateral relations and are set to overcome difficulties that have been overshadowing ties since the collapse of the USSR.
The conclusion was made at the first-ever official meeting between the presidents of the two countries in Moscow."It is an important day for Russian-Latvian relations. For the first time in the history of our modern statehood the president of the Latvian Republic has come to our country on an official visit," Dmitry Medvedev said at a joint media conference with Valdis Zatlers after their talks on Monday. The visit is the result of efficient work of both sides in restoring "the atmosphere of mutual trust."The presidents discussed a number of topics, including economics, culture and, of course, history – the thorniest issue in the relations between the two former Soviet republics. The main reason for that is differing views on events in the past, particularly World War II and its aftermath.Latvia accuses the Soviet Union – which is seen as Russia's predecessor, the latter being blamed for all sins now – of the occupation of its territory from 1940 to 1991. Moscow, for its part, does not approve of Latvia praising those who fought on the side of Nazi Germany, saying it is a glorification of Nazism. For instance, it condemns the Latvian Waffen SS veterans' parade held annually in Riga.Both Medvedev and Zatlers agreed that it is impossible to erase all the complications in just one visit, but – what is most important – the sides are willing to do so and are set to continue their dialogue. An agreement to set a joint historical commission of historians is proof of that intention.Russian and Latvian scientists will "analyze past events and get access to archives which have so far been closed," Medvedev said. That will form a basement for the future development and, as Zatlers noted, will benefit relations.According to the Russian leader, it is not easy to separate politics from history, but it is something the partners should aim for. Some historic topics will always be complicated. At the same time, politicizing them too much will only hamper a friendly dialogue and result in mutual offence and dislike. Medvedev recalled his Latvian counterpart's visit to Moscow on May 9 this year to attend the celebration of the 65th anniversary of victory over the Nazi Germany. "That was an important step," he said. An overall conclusion the presidents came to after their talks is that Russian-Latvian relations have reached a new level. In yet another sign of warming, Riga voiced its support to the idea of introducing visa-free travel between Russian and the European Union. "It requires a lot of homework. Latvia has walked all the way from complete isolation to visa-free regime and to the Schengen zone. We know what has to be made in practice," Zatlers said. That is why it is important that Latvia – which borders Russia – gives its backing to the process. It is also worth mentioning that the Latvian president was speaking Russian at the conference. In Moscow he was accompanied by a large group of businessmen who came to develop business ties with the neighbors. The two states sealed the deal on nine documents, including agreements on co-operation in tourism and environmental protection, countering crime, and the easing of travel rules for those who live on bordering territories.The Latvian president invited his Russian colleague to visit Riga, which Medvedev gladly accepted, saying that he had never been to Latvia and would be interested in seeing it.Zatlers' visit to Moscow coincided with a presidential election in another former Soviet republic, Belarus, where, according to preliminary results, Aleksandr Lukashenko has won his fourth term in office. Journalists asked the Russian and Latvian presidents to comment on what they think about the election. Medvedev reiterated the stance he has been maintaining from the very beginning of the presidential campaign in the neighboring state. "The election in Belarus is an internal affair of Belarus," he said, adding that he hopes that as a result of this voting the country will keep developing as a modern state, based on democracy and friendship with neighbors. No matter who leads it, Belarus will always remain one of Russia's partners, with historic, cultural, economic and social links.
You can share this story on social media: