This is why US farmers are closely monitoring Ukrainian conflict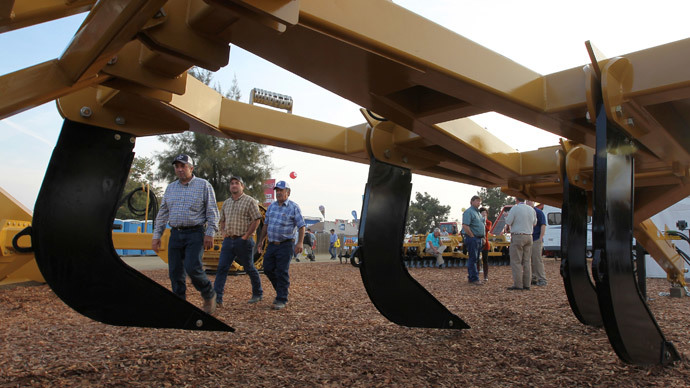 While the conflict in Ukraine continues to unfold, farmers across the United States have taken a strong interest in the situation since regional instability could have various consequences on wheat and corn supplies around the world.
According to McClatchy DC, the upheaval in Ukraine has many farmers and food producers bracing for possible disruptions in the country's supply chain and ability to receive loans for planting. Meanwhile, any potential Western sanctions on Russia's own wheat output could also have repercussions felt on American farms and elsewhere.
"This is a region where we have been facing stiff competition from Ukraine," Thomas Sleight, the president and CEO of the U.S. Grains Council, said to the news service. "Longer term, everyone is waiting to see what effect credit availability will have on Ukrainian farmers' willingness to plant and continue expanding their acreage of wheat and corn."

Currently, Ukraine is the world's third-largest corn exporter and the sixth-largest wheat exporter. Russian is the fifth-largest wheat exporter, and imports a significant amount of US corn and poultry products.
Ukraine's rise in corn and wheat production – as well as Brazil's – has coincided with a decline in growth in the United States, leading many to think it would become one of the US' chief competitors. Previously, analysts predicted corn acreage in the US would continue to fall, but Ukraine's recent instability may cause farmers to rethink that outcome and plant more corn.
If the ongoing conflict continues or escalates, it could result in higher grain and corn prices across the globe. As noted by the Wall Street Journal earlier this week, wheat prices rose three percent to their highest level in two weeks on Monday, and have risen 12 percent since the start of 2014.
"The rising tensions have people concerned about their ability to sell into the world market, and that the U.S. may get some of that business," said Brian Hoops, the president of brokerage Midwest Market Solutions to the Journal. "Ukraine farmers are also struggling with the ability to secure input financing to plant another wheat crop."
Complicating the situation is the fact that a lack of rain across the American Great Plains region, which has seen only small rainfall in the last six months, also restricts future wheat growth.
Since both the Russian ruble and Ukrainian hyrvnia have declined against the US dollar – 10 percent and 35 percent, respectively – there's also concern that not only will US products become too expensive to import, but also that farmers in those countries will sit on their own crops until their currency rises again. If that's the case, it could mean restricted global supplies and even higher prices.
So far, however, USA Poultry & Egg Export Council spokesman Toby Moore said there's no indication that is what's happening – an important sigh considering Russia is the US' second-largest importer of poultry.
"As far as our members are concerned, it's pretty much been business as usual, no threats. They're importing product," he told McClatchy. "The bigger concern is the decline in the value of the ruble, which makes our products more expensive in Russia. But so far, so good."