EU spy chief rules out Russian military presence in Ukraine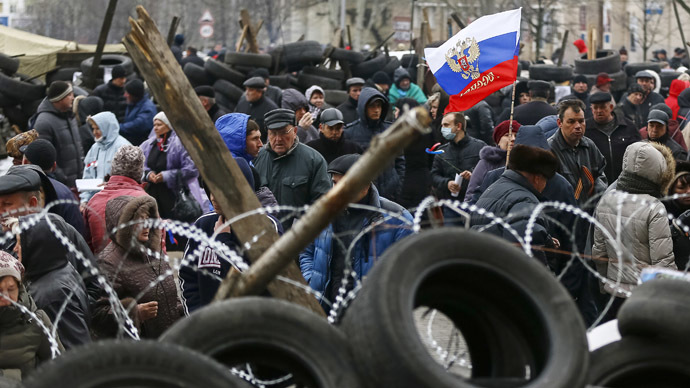 There is no large Russian military presence in East Ukraine, head of EU intelligence, Commodore Georgij Alafuzoff, has said. The spy chief has dismissed multiple accusations from the West alleging Russian involvement in the unrest in the region.
In an interview with Finnish national news broadcaster, Yle, Alafuzoff said the Russian military had nothing to do with the seizing of government buildings in eastern Ukraine.
"In my opinion, it's mostly people who live in the region who are not satisfied with the current state of affairs," said Alafuzoff, referring to the situation in East Ukraine. He went on to say that the people are worried for the welfare of those who speak Russian as their first language in the region.
Alafuzoff echoed the words of the Russian government which has categorically denied interfering in the ongoing unrest. Russian Foreign Minister Sergey Lavrov said in a press conference on Monday that Moscow is not interested in destabilizing Ukraine and wants the country to remain united.
Anti-Kiev activists in the southeast of Ukraine have seized local government buildings as a mark of protest against the coup-appointed Ukrainian government. In response to the unrest, Ukraine's interim President Aleksandr Turchinov announced the beginning of an "anti-terrorist" operation in eastern Ukraine.
On Tuesday, military hardware and troops began to mass on the outskirts of the eastern city of Slavyansk. Sightings of groups of military vehicles have been reported in the neighboring Kharkov and Lugansk regions, where pro-Russian and anti-Kiev sentiment is high.
Moscow has condemned Kiev's operation as "anti-constitutional" and "criminal" and indicative of the government's unwillingness to open dialogue with the regions.
"We are deeply concerned over the military operation launched by the Ukrainian Special Forces with support by the army. There have already been victims," the Russian Foreign Ministry said in a statement on Tuesday.
Anti-Kiev sentiment is, meanwhile, spreading across Ukraine. On Wednesday the anti-Maidan movement in the city of Odessa called for a day of protests and declared the creation of a "people's republic" in the region.
"From this day on, the Odessa region is declared the Odessa People's Republic where the power belongs only to the people who live there. Tomorrow at 4pm [13:00 GMT] Odessa should grind to a halt, literally!" read a message on the Odessa Anti-Maidan movement's website.
The protest movement in southeast Ukraine is rejecting Kiev's coup-appointed government that was established in February following weeks of violent protests.
You can share this story on social media: