Moscow not interested in destabilizing Ukraine - Lavrov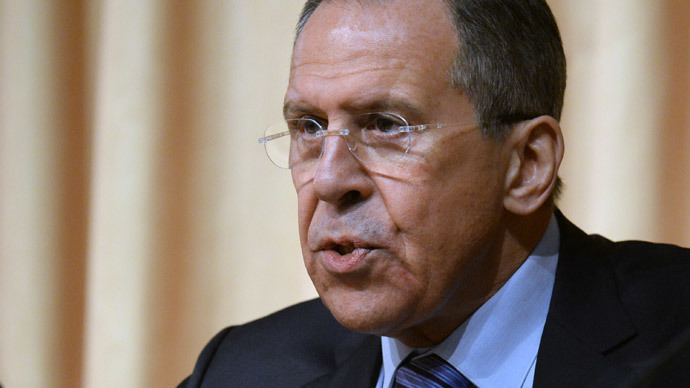 Moscow is not interested in destabilizing the political situation in Ukraine, says Russian FM Sergey Lavrov. If Kiev, along with EU and US claims about arresting some Russian agents, they have to bring the evidence, he adds.
Those who approve Kiev coup-appointed government in its crackdown on anti-Maidan protesters in south-eastern Ukraine, should answer for this, he added during the press conference with his Sudanese colleague Ali Karti.
"Ukrainian citizens should have equal rights, there should not be 'second-class people' who have to suffer from insults and humiliation from neo-Nazis," he added.
Lavrov said that Russia is interested in a united, friendly Ukraine where all its citizens live together peacefully and have a chance to normally interact with their neighbors.
This will be possible only if the country undergoes thorough constitutional reform, he added.
Speaking about the project of constitutional reform, Lavrov said that he is completely unaware of what the commission responsible for this very reform is doing about it now.
Neither Russia nor people in south-eastern Ukraine, judging by their demands, know what this commission is doing about these reforms, he said.
If they [members of the commission] want to "paste together" the text [of the constitution] inside Ukrainian Verkhovna Rada without the involvement of south-eastern regions and then present it at the referendum [on May 25], then it doesn't answer the criteria we a talking about, said Lavrov.
He also commented on Kiev's decision to bar some Russian journalists from entering Ukraine.
"The situation with Kiev's authorities, who deny entry to some journalists, is abnormal," he said. "But western countries are staying silent [about this]. The absence of any western reaction to this only shows the double standards [of the EU and the US]," he added.
On Sunday, a Russian cameraman was denied entry to Ukraine at the Donetsk airport, as he didn't have enough money on him, local authorities said.
All in all, over 20 Russia journalists have recently been denied access to Ukraine on the grounds that they do not have sufficient funds to enter, according to Ukrainian authorities. The move has caused outrage from both the journalists' union and Moscow.
"We would like to attract attention of the world community, Western countries and Journalist associations to this 'abnormal' situation," Lavrov said.
He said he was going to present this issue at the meeting in the United Nations and the OSCE (Organization for Security and Co-operation in Europe).
Russian FM also added that at the emergency meeting at OSCE scheduled on Monday, the sides will also discuss the situation in Ukraine.
Meanwhile, the US didn't give Russia any explanations about the visit of John Brennan, the CIA chief to Kiev, said Lavrov.
On Saturday there came unconfirmed reports from a source from Ukraine's parliament, the Verkhovna Rada, that Brennan visited Kiev and held a meeting with the country's leaders, as well as with representatives of Ukraine's security agencies. According these reports, Brennan influenced the decision by the Kiev authorities to crackdown on anti-Maidan activists in the eastern city of Slavyansk on Sunday.
However, CIA spokesman Todd Ebitz declined to comment on Brennan's travels only saying that the claim "is completely false."
"Like other senior US officials, Director Brennan strongly believes that a diplomatic solution is the only way to resolve the crisis between Russia and Ukraine," he added.
Earlier, Kiev and US Secretary of State John Kerry claimed they have allegedly captured some Russian agents in Ukraine but still no evidence has yet been presented.
"I told [Kerry and Ukraine's acting FM, Andrey Deschitsa] that if they have arrested someone, then show them to us, but they don't do that," Lavrov added.
We don't interfere with Ukrainian internal affairs and we don't have our agents in Ukraine, added he.
You can share this story on social media: