US gives Afghanistan fleet of drones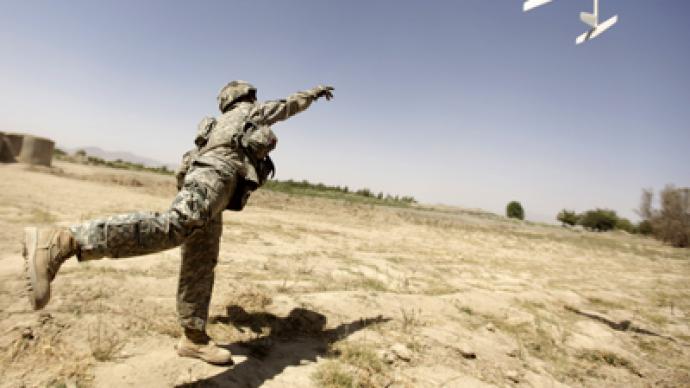 Afghan President Hamid Karzai said his recent meeting with US President Obama gave him nearly everything his country hoped for – including a fleet of aerial surveillance drones that Afghan officials have long been requesting.
Karzai held a news conference on Monday in which he proudly announced the promised fleet of drones, as well as an upgraded fleet of aircraft including 20 helicopters and at least four C-130 transport planes. The Afghan president noted that the surveillance drones would be unarmed, but will nevertheless help spy on enemy combatants and watch over coalition forces. Western forces will train Afghans to fly, use and maintain them before giving complete control to the Karzai government.The US will also provide Afghanistan with intelligence gathering equipment "which will be used to defend and protect our air and ground sovereignty," Karzai said. The US has also pledged to speed up the handover of detainees currently imprisoned and held by American forces. Karzai has previously called this a violation of promised Afghan sovereignty and the issue has built up tension between the two nations."We are happy and satisfied with the results of our meetings," the Afghan president told journalists at the presidential palace. "We achieved what we were looking for."American officials refused to confirm or deny the details of the agreement made between Afghanistan and the US regarding aircraft, the New York Times reports. But since his meeting with Obama, Karzai had repeatedly expressed his satisfaction with the outcome.The US has long demanded that Afghanistan grant immunity to any US forces staying in the country after the 2014 withdrawal. Karzai has sternly opposed this measure, but conceded after Obama granted him many of his own wishes."This is a decision that should be made by the Afghan people in a Loya Jirga: whether they are granting immunity to them or not; if yes, how and under what conditions" he said in an interview with CNN.But this might not even matter if Afghans have their way when it comes to post-withdrawal troops. Top Afghan officials have expressed their desire for Special Operations forces to leave the country at the same time as US military troops. These forces currently train the Afghan local police and US officials have assumed that the withdrawal would only apply to traditional military troops, the Washington Post reports.The Washington meetings between Karzai and Obama have resulted in numerous benefits for the Afghans and Karzai's news conference was the first mention of American drones being handed over to the Afghan government. Negotiations between the US and Afghanistan are still ongoing, with the two countries trying to determine details regarding the US presence in Afghanistan after the 2014 troop withdrawal.
You can share this story on social media: