US states considering proposals to eliminate college tuition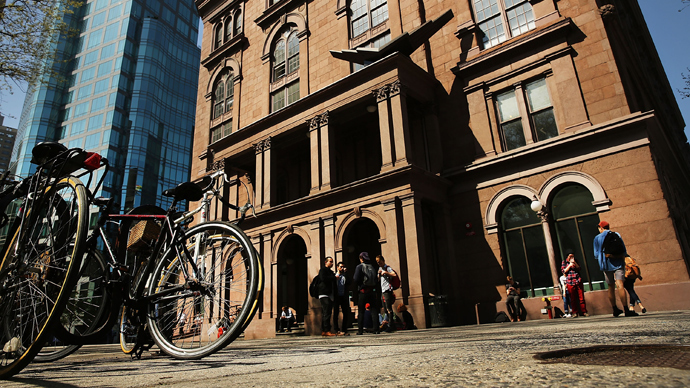 Lawmakers in at least two US states are mulling proposals that would buck the national trend of increasing education expenses and help students attend college without the huge cost of tuition that normally accompanies higher education.
The Oregon State Senate on Tuesday debated a proposal ordering the state to study if it is plausible for high school graduates to enroll in community colleges for free. Known as Senate Bill 1524, the legislation would order the Higher Education Coordinating Commission to examine whether the idea is viable and return the result by September. State leaders would then use that information as a basis for future legislative sessions.
"If we get this right, I think we can unleash a tremendous amount of motivation within these young people, giving them the motivation to stay in school, to get a certificate, to achieve that additional learning that can make a difference in terms of their economic success," Governor John Kitzhaber told the Senate Education and Workforce Development Committee this week, as quoted by AP.
Student loan debt burden is one of the most problematic economic factors facing college graduates in the US. The average American student graduates with more than $29,000 in debt, according to CNN Money, with interest rates further complicating the dilemma. Seven out of every ten students graduate with some debt.
"I think we all recognize that there is no longer a path from high school to the middle class" without at least some further education, said Oregon Senator Mark Hass. He went on to explain that early estimates indicate that the plan would cost Oregonian taxpayers between $100 and $200 million per two-year budget cycle if every high school graduate attended community college.
Last year, Oregon lawmakers voted to finance another model, known as "pay forward, pay back." The plan would allow students to attend four-year universities - which are far more expensive than two-year community colleges - for free and then repay the state with a percentage of their future earnings.
That idea is still under consideration in Oregon, but legislators in Tennessee are floating an even more radical idea to help struggling students. In his annual 'State of the State' address, Governor Bill Haslam said he has a new plan that would make two years of community college and technical school free for all students.
The policy calls for free education for all state residents with high school diplomas or equivalency degrees, regardless of prior academic achievement or their family's financial needs. Haslam - a Republican who is up for re-election - still needs to gain approval from the state legislature, but The New York Times reported that authorization is likely.
"We just needed to change the culture of expectations in our state," Haslam said. "College is not for everybody, but it has to be for a lot more people that it's been in the past if we're going to have a competitive work force...We are committed to making a clear statement to families that education beyond high school is a high priority in the state of Tennessee."
The state plans to pay for the plan by diverting an estimated $34 million in funds from the lottery. Community college is already known for its affordability, but Haslam maintained that much of the impact will not be economic, but psychological.
"It is more affordable than most people think, but if they don't know that, that doesn't help us," the governor said. "If we can go to the people and say 'This is totally free,' that gets their attention."
You can share this story on social media: