US commander in Afghanistan 'mad as hell' over green-on-blue attacks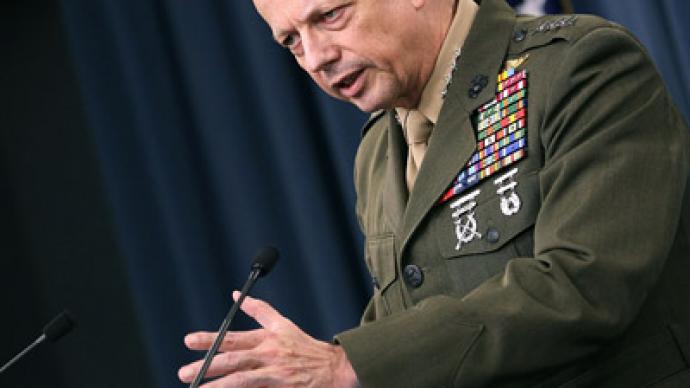 As the US is slowly pulling out of Afghanistan, the top US military commander in the country has expressed anger and frustration about the rise of insider attacks, while Afghan President Hamid Karzai said terrorism is on the rise.
The remaining 68,000 US troops in Afghanistan are required to leave the country by 2014. While the number of US troops is gradually declining after fighting the Taliban for 11 years, the violence is still present. More than 50 coalition troops have been killed in "insider" or "green-on-blue" attacks this year, including two on Saturday. Insider attacks are proving frustrating at a time of withdrawal."I'm mad as hell about them, to be honest with you," Gen. John Allen said on CBS's '60 Minutes'. "We're going to get after this. It reverberates everywhere, across the United States. You know, we're willing to sacrifice a lot for this campaign. But we're not willing to be murdered for it."Insider attacks by Afghans training and fighting side-by-side with Americans have repeatedly killed US forces. Last month, these attacks were the leading killer of US troops.As the top commander, Allen's job is to make sure Afghans are able to take control of their country. But insider attacks by the very Afghans the US is training are threatening America's exit strategy."These attacks are sad. This is something that I've discussed in detail, something I bear responsibility to correct," Karzai said on "60 Minutes.""The reason for the NATO and American intervention was terrorism. Terrorism has not gone away. It has increased," he added. Violence against civilians and allies is on the rise, the Afghan president said.Allen said the "vast majority" of Afghans side with the US, but anticipates that the deadly attacks will continue at a time when US troops are more vulnerable than ever. Insider attacks are now the signature move of the Taliban."The enemy recognizes this is a vulnerability," Allen said about the collaboration between US and Afghan forces. "You know, in Iraq, the signature weapon system that we hadn't seen before was the IED. We had to adjust to that. Here, I think the signature attack that we're beginning to see is going to be insider attack."On Monday morning, a suicide bomber dressed in an Afghan police uniform killed 14 people, including three Americans. But this type of attack is not a rarity: About 1 in 5 combat-related deaths of a US or NATO troop has come as a result of  "green-on-blue" attacks, and an angry Allen expects there are more to come.