Electric eye on America: US set to deploy drones for home use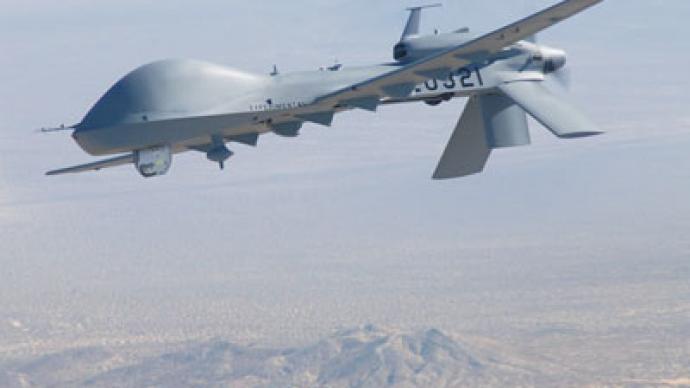 The US Army has completed a two-week demonstration of a new ground-based sensor system for its drones. It now hopes to get the drones certified for domestic flights, but critics are concerned that their use could breach privacy rights.
The demonstrations took place at the Dugway Proving Ground in Utah, and involved testing the Ground Based Sense and Avoid (GBSAA) system for the MQ-1C Gray Eagle Unmanned Aerial Vehicle (UAV). The drone has been on duty in Afghanistan, but the Army now hopes to deploy it at home.The Pentagon hopes to send the Gray Eagles to five bases throughout the country: Fort Hood (TX), Fort Riley (KS), Fort Stewart (GA), Fort Campbell (KY) and Fort Bragg (NC). However, it first needs to get the drones certified with the Federal Aviation Administration (FAA). In February, Congress tasked the FAA with coming up with a plan to integrate rules for drones into domestic aircraft regulations. Under the FAA Modernization and Reform Act, the aviation authority was to produce rules for the certification of the first UAVs to be used by law enforcement and emergency response agencies in May. Licenses for these drones are to be issued in August. While UAVs are actively deployed by the US military for operations in hot spots like Afghanistan, Pakistan and Yemen, it appears that the government and private companies are now eying their potential uses in the civilian sector. "UAVs, commonly known as drones, offer real promise for an array of domestic applications," John Villasenor, a nonresident senior fellow in Governance Studies at the Brookings Institution, wrote in an opinion piece in The Washington Post. "In an era of ever-tighter budgets, they could dramatically reduce the cost to law enforcement agencies and private companies involved in gathering vital — in some cases, lifesaving — information."Potential applications for drones by various government and state agencies include monitoring traffic, inspecting pollution and supervising borders.  In Texas, the Montgomery County Sheriffs Office got hold of a pilotless Shadowhawk chopper. The county police had hoped that eventually the unmanned helicopter could be equipped with weapons like flares, smoke grenades, tasers and rubber bullets to subdue a crowd. However, much to their dismay, a prototype Shadowhawk crashed into a SWAT van during a photo op. This raised the important issue of safety – especially when operating a UAV in a crowded urban area. Drones also have an ample variety of commercial uses. In fact, this has already been shown by real estate agents in Los Angeles, who deployed a chopper drone to photograph their clients' homes. However, it turned out that they were breaching current FAA regulations, which state that unmanned aerial vehicles can only be operating within the line of sight and at altitudes bellow 400 feet. The deployment of drones at home carries a covey of issues, most importantly privacy and safety. Current regulations, as stipulated by Supreme Court cases such as California v. Ciraolo and Florida v. Riley, do not prohibit the government from spying without a warrant on individuals and their property from "public navigable space." Extending the same regulations to drones could mean that it would be legal to perpetually hover over somebody's backyard and conduct 24-hour surveillance of their property. There have already been reports of drones being used by the US government to spy on citizens at home. Journalist Joseph Farah, a known Obama critic, said he recently spotted a drone hovering over his residence in rural Virginia.Organizations like the American Civil Liberties Union have already expressed their concern over the domestic deployment of drones, saying privacy could be jeopardized by drone use for widespread public surveillance. In response to this concern, the Association for Unmanned Vehicle Systems International (AUVSI) published a "Code of Conduct" for drone manufacturers and operators. The guidelines stipulate the importance of safety, and underscore the importance of preserving the right to privacy. "We will respect the rights of other users of the airspace," the rules read. "We will respect the privacy of individuals."However, the "Code of Conduct" is merely a set of non-binding guidelines, with no guarantees that they would be heeded by the government or private drone operators. This paves way for a future in which an "eye in the sky" will always be "looking at you." Lets just hope it won't be able to read your mind.
You can share this story on social media: