US Army cuts brigades to render them 'more lethal'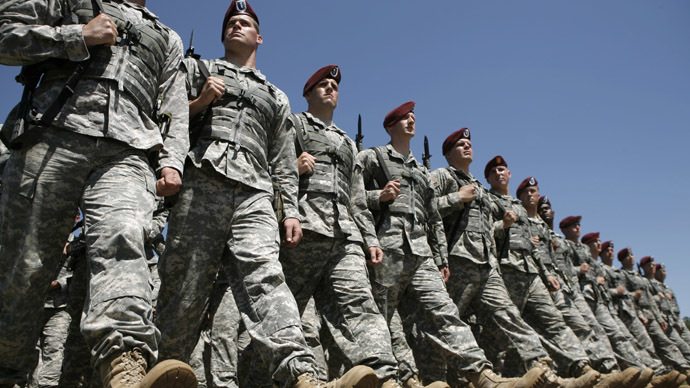 Twelve US-based brigades will be deactivated by 2017 to fit a slashed military budget. Despite cuts of over 80,000 troops, top brass assures that combat readiness will not suffer because the remaining brigades will have more battalions and firepower.
Army Chief of Staff General Ray Odierno announced Tuesday plans have been approved to inactivate 10 Brigade Combat Teams (BCTs) with headquarters on the US territory. This comes under the $487 billion military budget cuts mandated in 2011 by the Budget Control Act, a fourth round of military budget cuts since President Barack Obama entered office.
It has been announced that the final cut of the service in five years is expected to be 80,000 service personnel, most of which is to come through attrition, Orieno said giving the difference from a wartime high of 570,000 soldiers to 490,000 by the end of 2017.

Overall drop in the number of BCT will be from current 45 to 33, as the US Army plans to return to about the same number of enlisted servicemen it had before the Iraq war started, it was announced at General Odierno's press conference.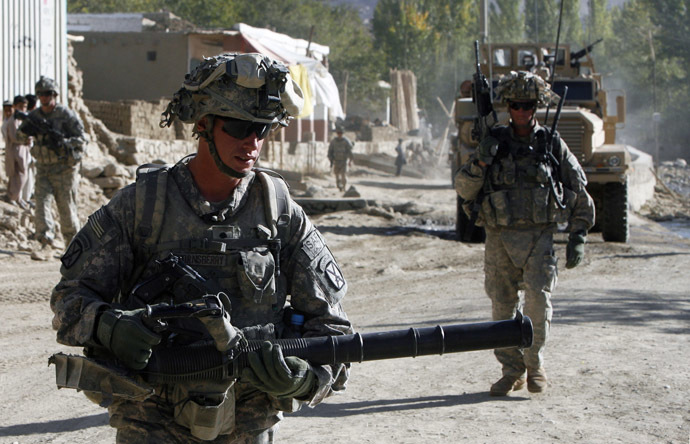 A standard American infantry BCT currently has roughly 3,500 servicemen.
The announced cuts, which are mainly to affect the active-duty force, could also be regarded as reorganization of the military, which has been conducting wars for the last 12 years. The Army Reserve will remain at 205,000 soldiers and the state-based National Guard militia will lose 8,000 soldiers, dropping to 350,000 from 358,000. 
'Increasing tooth-to-tail ratio'
General Odierno explained that whereas the number of BCT is decreasing, the number of battalions in them will grow from present two to three thus increasing the Army's "tooth-to-tail ratio."
Besides an additional battalion, which is usually 600-800 soldiers, BCTs will have more engineers assigned. It is expected that remaining brigades would be somewhere close to 5,000 personnel instead of the today's 3,500 servicemen and women.
"We will add a third maneuver battalion and additional engineer and fires capability to each of our armor and infantry brigade combat teams in order to make them more lethal, more flexible and more agile," Odierno said.
Reportedly, the decision to beef up the number of servicemen in a BTC came as a recommendation from commanders with combat experience in Iraq and Afghanistan. In their view personnel proliferation will extend fighting capabilities of the brigades on a battlefield. 
In this way the impact on combat power will be minimized and the savings will be made at the expense of support units outside of BCT and logistics. 
BCT reduction by military installation:

Fort Bliss, Texas – infantry BCT
Fort Bragg, North Carolina – airborne infantry BCT
Fort Campbell, Kentucky – infantry BCT
Fort Carson, Colorado – armor BCT
Fort Drum, New York – infantry BCT
Fort Hood, Texas – armor BCT
Fort Knox, Kentucky – infantry BCT
Fort Riley, Kansas – infantry BCT
Fort Stewart, Georgia – armor BCT
Joint Base Lewis-McChord, Washington – Stryker BCT
General Ray Odierno insists the cuts were thoroughly calculated after thousands of hours of planning, personnel interviews and simulated combat tests. Naturally, because the brigades are slashed for economic reasons, the final selection was based on cost and logistic effectiveness, required training resources, ranges, airspace and infrastructure, as well as local economic impacts once BCTs are gone, Odierno said.
"I know in the local communities it will have its impact," Odierno told reporters on Tuesday. "But we've done our best to reach out to them so they understand what the impacts are. We've tried to make it as small an impact as possible for as many communities as we could," he said.
The deactivation of 10 BCTs comes as the first round of military reduction, because if the Congress does not reconsider austerity in military spending, the number of service personnel will be reduced even lower than the planned 490,000 troops.
A member of the Armed Services Committee, Democrat US Congressman Adam Smith warned that, "The real hazard to military effectiveness will persist as long as Congress fails to act on sequestration. If sequestration is not removed, then more extensive force structure changes will need to be made."
The chairman of the House Armed Services Committee, Howard P. McKeon, promised his panel "will carefully examine the implications of this initial restructuring, but we all must understand that this is only the tip of the iceberg, much deeper cuts are still to come."
Whether they will be accompanied by same 'tooth-to-tail ratio increases' remains to be seen.