Black Hawk down: US looking to buy Russian helicopters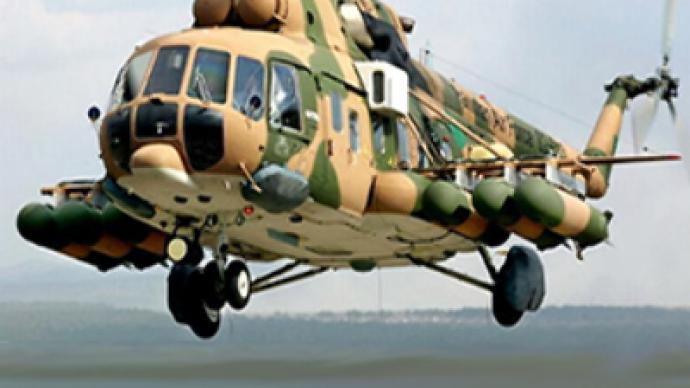 With NATO forces advancing on fortified Taliban positions ahead of parliamentary elections, the US Defense Secretary has stated his interest in purchasing Russian helicopters.
Saying that Russian-built helicopters are "well-suited for Afghanistan," US Secretary of Defense Robert Gates said the United States is interested in buying Russian Mi-17 helicopters in the ongoing battle against Taliban forces.
"We are obviously interested in buying Mi-17 helicopters. They are well-suited for Afghanistan. Afghans are familiar with them," Gates said in an interview with Interfax.
Although the number of Russian-built military aircraft the US military wants to buy is said to be "limited", Gates admitted that he has received flak from US helicopter manufacturers who are asking why America is interested in buying Russian models.
"We are getting, frankly, some pushback here in the United States by American helicopter manufacturers wondering why we are interested in buying Russian ones," Gates said. "The buy that we have in mind is pretty limited, but we'll have to work our way through the politics of that."
Afghanistan is bracing itself for parliamentarian elections this weekend as US and Afghan forces advance against dug-in Taliban positions in order to prevent any attacks on voters.
Both the Taliban and Hizb-i-Islami, a militant insurgent group led by warlord and former Afghan Prime Minister Gulbuddin Hekmatyar, have condemned the elections and urged people to stay home.
Gates said the ability of the US Army to purchase the Mi-17 helicopters depended on Congress.
"I honestly don't know," the Defense Secretary said. "It really depends on being able to get the money from the Congress."
Russian skepticism
Despite the success in the US-Russian effort in Afghanistan, Russian Permanent Representative to NATO Dmitry Rogozin expressed apprehension of the plan, citing the cost to Russian taxpayers.
"We are ready to take part in [the supply of Russian helicopters, which are in demand by the Afghan army] but we must think about Russian taxpayers. The taxpayers need to know what economic benefits Russia will get in addition to general political declarations of Russian security," he told Interfax on Wednesday.
Rogozin then said that Russia's military would suffer without the helicopters.
"We will have to deprive Russian servicemen of these helicopters. Is it not better to deter threats coming from Afghanistan with the strengthening of the Russian army? That is a very serious question, and it is impossible to make further progress without solving the financial problem first," he said.
Russia wants assist however it can in Afghanistan, and is already supplying firearms and helping with the reconstruction of the Afghan army so that it can independently guarantee the security of Afghanistan and prevent it from becoming a security threat to its neighbors, Rogozin said.
Meanwhile, NATO Secretary General Andres Fogh Rasmussen also proposed that Russia supply Afghanistan with helicopters.
Russia made a detailed reply based on the capacities of Russian helicopter makers.
"Now we need to find a sponsor," Rogozin said, according to Interfax. "There are certain intentions, and negotiations continue. Some well-to-do countries have sent positive signals."
The Mil Mi-17 helicopter played a key role in the Soviet war in Afghanistan, where it served as both troop carrier and gunship.
The reason for NATO's interest in the multi-role Russian-built helicopter is its greater carrying capacity as compared with the US-made Black Hawk.
In 2008, the Royal Thai Army, for example, announced a deal to buy six Mi-17s, marking the first time the Thai military acquired Russian aircraft instead of American.
Flight International quoted the Thai army's rationale: "We are buying three Mi-17 helicopters for the price of one Black Hawk. The Mi-17 can also carry more than 30 troops, while the Black Hawk [the US military's standard utility helicopter] could carry only 13 soldiers. These were the key factors behind the decision."
Thus, it appears that US and Afghan forces are looking for more efficient ways of getting more fighting troops to the action as the fight for Afghanistan continues.
You can share this story on social media: