United Airlines flight delay provokes airport revolt
Published time: 16 Jul, 2012 20:42
Edited time: 17 Jul, 2012 00:42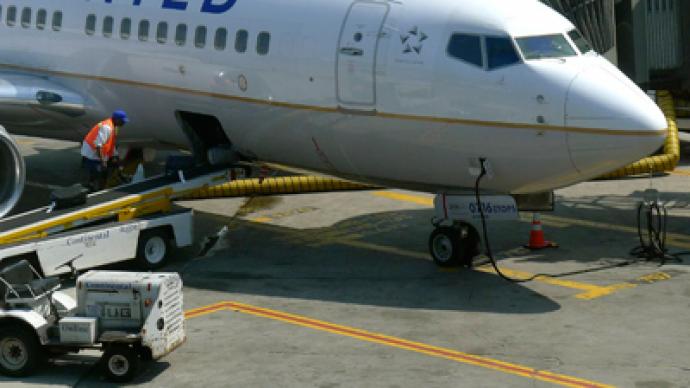 While a 13 hour flight from China to New Jersey may sound like a nightmare, that's all that 225 United Airlines passengers were wishing for last week when multiple flight cancellations led to a mutiny.
­United Flight 87 was scheduled to leave Shanghai on Wednesday, but left its frustrated passengers stranded until Saturday.
Three days of cancellations, mostly due to maintenance issues, instigated traveler protests, threats and violent clashes between passengers and airport staff – leading to fist fights and a blockade.
One passenger said airport officials responded violently to passengers angered by the poor treatment and inaccessibility of their luggage.
"They grabbed him by the tie, and they pulled him physically across the counter and started slapping him,"Pat Sinko, who witnessed the conflict, told ABC News.
Frustration grew as the flight was canceled three times and passengers struggled to get to their luggage.
The replacement generator, which was needed to fix the broken plane, was still in transit when another flight to New Jersey was scheduled to take off on Friday.
After being promised they would have priority over the newly arrived passengers, UA Flight 87 passengers grew angry when this was not the case. One Chinese passenger initiated a revolt to block the newly arrived passengers from getting on their plane, forming a blockade to prevent the other plane from being boarded.
"It was awful,"Ryan Jin of Jersey City told the Star-Ledger."Nobody knew what was happening and nobody would communicate with you."
But after a pilot promised the exasperated travelers that their own plane had been fixed and begged them to leave, they returned to their gate.
"That is the only way we're going to get out of here. … My crew, the other crew, we want to go as much as you do,"the pilot said, whose conversation with passengers was recorded on video."I can tell you the alternative is, if we don't have cooperation boarding here, these planes may leave empty."
After boarding their own plane once again, the weary passengers received disheartening news: their flight crew had been on duty too long, and the flight was once again delayed.
It wasn't until Saturday morning that UA Flight 87 finally made it to Newark Airport. The full refund and $1,000 travel certificate given to each passenger may have calmed some nerves, but it can't erase the nightmare.
"The situation clearly didn't go as smoothly as we would like,"a United Airlines representative told the Star-Ledger."We did not meet these customers' expectations. We hope they will give us another chance."