More Americans file for unemployment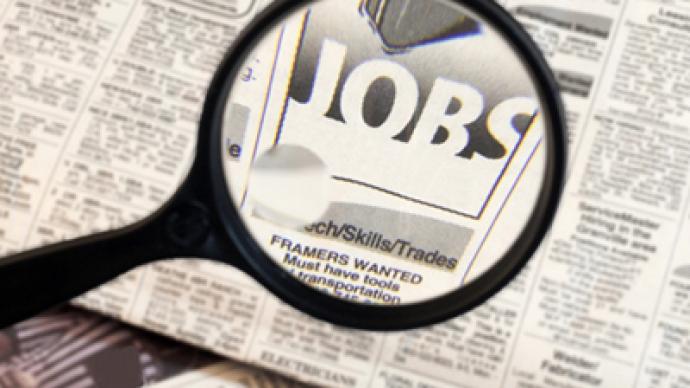 If you thought the jobless trend in America was disappearing, think again. 9,000 new people filed for unemployment last week, putting the current tally of applicants at 429,000 — the highest in a month.
Economists had originally put the previous week's toll at 414,000 unemployed, but updated surveys by both MarketWatch and Bloomberg place the number one thousand higher at 415,000. The actual tally for the week ending June 18 ended up including an additional 5,000 unemployed Americans.The total number of unemployed in the States has been higher than 400,000 at any given time since April as the US economy continues to struggle. The unemployment rate hit 9.1 percent in May, double what it was a few years earlier. Earlier in 2012 the number of applicants fell to 375,000, but the job market has only weakened since then. April's tally of 478,000 marked the highest statistic in eight months.Following Wednesday's Federal Open Market Committee meeting, Fed Chairman Ben Bernanke said he expects a change in these numbers for the better soon."We expect the unemployment rate to continue to decline, but the pace of progress remains frustratingly slow," said Bernanke.The Associated Press reports that employers added only 54,000 net new jobs in May — only a fraction of the average gain of 220,000 that occurred in the three months prior."Unemployment just looks like it's going to get worse," Business Insider Editor Courtney Comstock tells RT. "Layoffs on Wall Street are terrible," she says, and notes that job loss in the financial zone usually precedes layoffs in other sectors.The Fed is also expecting a 2.8 percent growth in the first-quarter gross domestic product, though when the commerce department releases its own estimate on Friday, economists elsewhere expect that figure to be only around 1.9 percent. Earlier they thought it would only grow around 1.8 percent. First-time unemployment benefit applicants climbed the most in Pennsylvania, California and Texas last week, with a drop in claims evident in Louisiana, Tennessee and New Mexico.