Twitter releases user info to NYPD
Published time: 8 Aug, 2012 19:17
Edited time: 8 Aug, 2012 23:17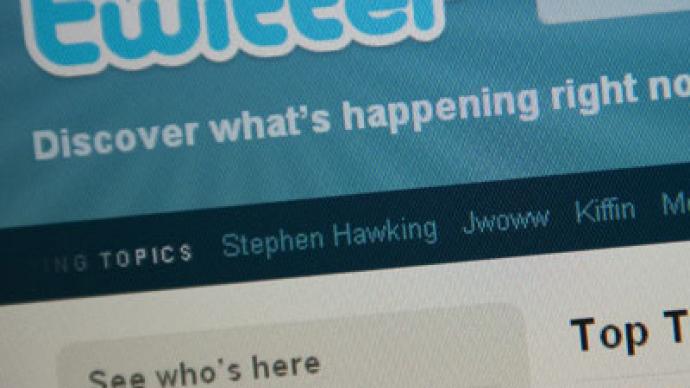 Twitter has turned over personal info pertaining to one of its users to the NYPD after being served with a subpoena to address threats made on the social media site that warned of a rampage at a Broadway theater.
Although Twitter officially refused to relinquish private user data to the New York Police Department upon their initial request, the NYPD confirms that the company's Silicon Valley headquarters have complied with a subpoena that was issued on Tuesday.
The NYPD had asked Twitter to turn over information related to a user whose account posted a string of message beginning earlier this summer.
In an August 1 tweet, the person behind the account in question warned "This s**t ain't no joke" and said "people are gonna die just like in aurora," referring to the massacre at a Colorado movie theater last month that left a dozen people dead. The user then remarked about being able to enter through a theater's unlocked doors and suggested that he'd open fire at that evening's Broadway performance of Undisputed Truth, a one-man show feature former boxer Mike Tyson.
Twitter initially declined to volunteer information, instead informing the media of a provision in their guidelines that explains, "If we receive information that gives us a good faith belief that there is an emergency involving the death or serious physical injury to a person, we may provide information necessary to prevent that harm, if we have it."
NYPD spokesman Paul Browne told ABC News on Tuesday that, because Twitter refused their request, "we dispatched police to cover the theater while we sought a subpoena to force Twitter to disclose the identity of the account holder."
It was confirmed on Tuesday that Twitter was indeed subpoenaed and as of Wednesday the NYPD says that they have the information relating to the account. They have not yet commented on whether or not they have made any progress in pursuing the case.
Jennifer Granick, the director of civil liberties for Stanford Law School's Center for Internet and Society, tells ABC News that under the Electronic Communication Privacy Act of 1986, "The law prohibits providers from turning certain information over voluntarily and, if they do, they can be sued."
"When it's the name associated with the account, the government can get that with just the subpoena," Granick explains