Twitter subpoenaed over OWS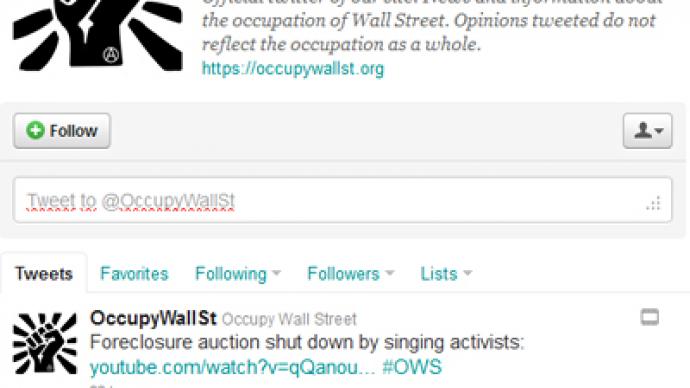 A new subpoena issued in the State of New York reaffirms that 140 characters is enough to land you in court.
New York City has issued a subpoena for Twitter, Inc., demanding that the company hand over a collection of tweets and related information pertaining to an account belonging to an Occupy Wall Street protester.
Nearly four months' worth of microblogged messages from Malcolm Harris, or @destrucuremal, are being ordered by the Criminal Court of the City of New York. Twitter is being asked to supply "any and all user information, including email address, as well as any and all tweets" under Harris' username that relate to account activity for nearly a four-month period in late 2011. Harris has not been told why the court is seeking this information — or why they couldn't just mine his Twitter account themselves — but he says via tweet that he believes it pertains to his participation with the Occupy Wall Street movement.
The court is asking for all info that came from his account between September 15 and the end of 2011. The first mass Occupy protest in Lower Manhattan occurred on September 17. In a public Twitter back-and-forth on Harris' profile, he says he believes the incident is related to an incident on the Brooklyn Bridge from October 17. "But from the scope, it's clear they want every related to OWS," he writes. It is unclear if Harris was involved in a separate Brooklyn Bridge incident late September that yielded roughly 700 arrests.
"This is legal equivalent of busting a party with loud noise and demanding my phone records for 3.5 months to see if I helped plan it," Harris tweeted early Tuesday.
Neither Twitter nor the NYC Court has explained the subpoena so far, but the social networking site is asked to hand in all material on February 8 to be used in a criminal action against Harris.
Twitter was also told not to clue Harris in on the subpoena, but ignored the gag order.
"Don't worry @twitter, when they ask how I got the subpoena, I'll just tell them a little birdy told me," writes Harris.
In December, the Suffolk County District Attorney's Office and the Boston Police Department in Massachusetts sent a subpoena of their own to Twitter, asking for information pertaining to the Occupy Boston demonstrations. Several protesters were arrested during demonstrations last October.
After the Boston PD offered their request, a spokesman for Twitter told the Read Write Web website, "to help users protect their rights, it is our policy to notify our users about law enforcement and governmental requests for their information, unless we are prevented by law from doing so."