Ted Turner apologizes after saying soldier suicides are 'good'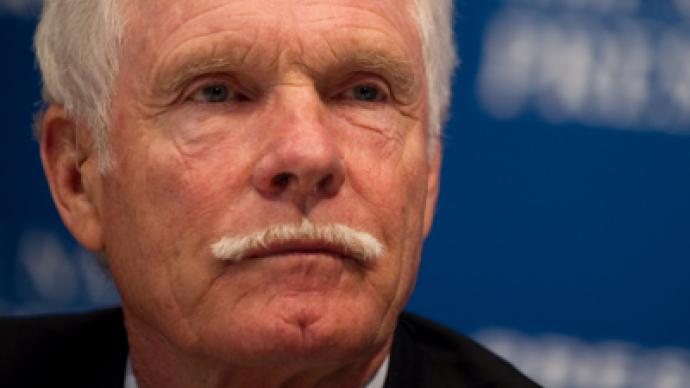 After saying on national TV that its "good" US troops have been committing suicide in record numbers, media mogul and billionaire Ted Turner has penned an apology to clarify his words.
Speaking to CNN's Piers Morgan this week, Turner said, "I think it's good" that American soldiers are turning their guns on themselves, insisting that it shows humans aren't meant to be put on the battlefield to bring death to others."It's so clear that we're programmed and we're born to love and help each other, not to kill each other, to destroy each other. That's an aberration. That's left over from hundreds of years ago. It's time for to us start acting enlightened," Turner told the talk show host after the topic of suicide was brought up during the broadcast.Earlier in the interview, Turner said, "It's time to put war and conflict behind us and move on, and start acting like civilized, educated human beings." According to Morgan, his guest brought up suicide during a commercial break, prompting the host to ask on camera what he thought about more soldiers dying from suicide than in combat. "That's shocking, isn't it?" asked Morgan."Well, what – no, I think it's – I think it's good," Turner told him before offering his explanation about the human condition.After a backlash of negative press, Turner issued a statement to say he's sorry for anyone offended by his comment."During my recent interview on CNN's Piers Morgan Tonight, I inadvertently used the word 'good' when asked for my thoughts on the increasing rate of suicide among U.S. military soldiers in the Middle East. It was certainly not my intent to imply that suicide is 'good.' Rather, I was implying that it is good that the public is more aware of these tragedies and is more averse to war and war-related fatalities," Turner responded."My message has always been one of peace, I believe that we're born programmed to love and help each other, not to kill or hurt each other. I strongly support our U.S. troops and would never intentionally say anything to harm the brave men and women serving our country. I deeply apologize for any misunderstanding caused by this comment."In June, the Pentagon reported that more US soldiers were losing their lives to suicide than to enemy forces, with the rate of suicide clocking in at around one-per-day. "We are very concerned at this point that we are seeing a high number of suicides at a point in time where we were expecting to see a lower number of suicide," Jackie Garrick, head of the Pentagon's Defense Suicide Prevention Office, told the Associated Press.
You can share this story on social media: