Too real to take on plane: TSA seizes high-heels designed as fake guns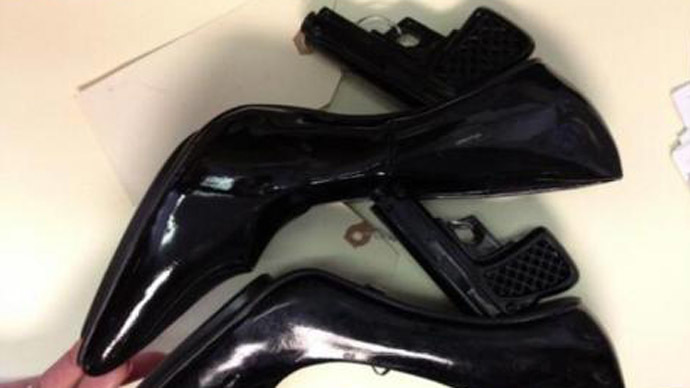 The Transportation Security Administration (TSA) at a New York airport checkpoint has confiscated a pair of women's shoes with fake guns as heels. Security considered the 'pistols' too realistic and banned them from being taken on board.
The TSA said the heels were seized from a woman traveling at New York's LaGuardia Airport.

Along with the shoes a replica ammunition belt was also seized. However, it is not clear if the belt belonged to the same woman. 
What not to wear through a #checkpoint. This prohibited item was stopped by #TSA at #LGA checkpoint. pic.twitter.com/mGBDXgo6YW

— TSAmedia_LisaF (@TSAmedia_LisaF) July 16, 2013
Photos of the heels and belt were tweeted by a Transportation Security Administration public affairs representative in the TSA Blog in a weekly section on unusual items confiscated at security checkpoints at airports across the country.

The seized items are what the agency call "realistic replicas of firearms" and thus they are prohibited from being taken on board. Under the TSA rules that list such stuff in "Guns and Firearms" section the shoes and the belt should have been carried in checked-in bags. 
The agency said the shoes were voluntarily surrendered by the traveler and no one was arrested or fined.

The TSA has been confiscating all kinds of weapons and other potentially harmful items for years now, but only recently they launched Twitter and Instagram accounts to post pictures of confiscated items.

The idea is to remind passengers of what not to attempt to bring on a plane.

According to the agency's blog, which has nearly 45,000 followers, 49 firearms were seized last week alone.

You can share this story on social media: