Cancer victim humiliated by TSA agents at checkpoint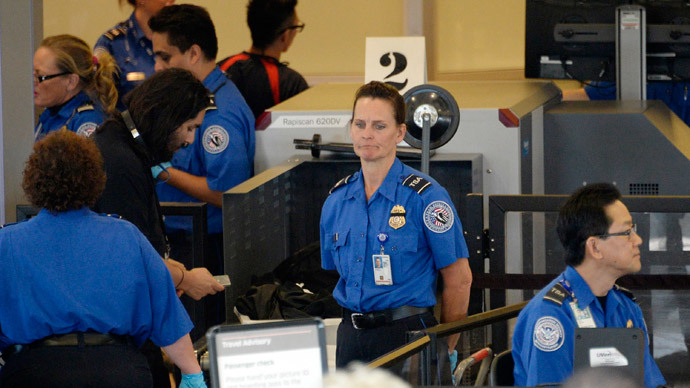 The Transportation Security Administration is being criticized yet again, this time for embarrassing a cancer victim by proclaiming his incontinence issues to other travelers and strip-searching him before allowing the man to proceed.
The incident was detailed in an anonymous blog post on CafeMom.com, where the man's wife claimed a TSA agent yelled that her husband was "wearing a diaper." Another agent then reportedly laughed at the situation before escorting the man into another room for an inspection.
The husband, who suffers from an overactive bladder linked to his battle with prostate cancer, was originally passing through an airport security checkpoint when a TSA agent stopped him.
"After he emerged from the scanner the TSA officer (a female) asked if he was carrying liquids in his clothing," the post reads. "He explained his condition and what had happened. In the past, it was embarrassing enough for him to just tell a TSA employee that [he] was wearing an adult incontinence garment but now he was also announcing that he had wet himself.)
"She called over to another (male) officer (the boss, I guess) and explained the situation to him out loud in front of everyone else still going through the line. The problem was he did not understand what an "incontinence product" was when she told him. Myself, [the husband], and the female TSA employee tried explaining a few times before the woman finally just shouted ' HE IS WEARING A DIAPER' which caused pretty much everyone to turn and stare at us (smaller airport so not that many people)."
At this point, the male TSA agent "snickered" and told the couple that the husband would need to be inspected more thoroughly. The man was reportedly subjected to a pat-down and told to drop his pants when they noticed "suspicious padding" around his waist.
"After finally seeing the diaper, one of the officers said that he would need to 'change out of it' to 'clear the issue,'" the wife wrote. "He got his spare brief out of my carry-on, a female officer came up and gave him a large Ziploc bag and they left the room while he changed. She returned, collected the bag with the wet brief and went off for about 5 minutes."
Although the couple was soon cleared and most of the TSA officers were apologetic about the inspection, the wife called the incident "quite possibly one of the most embarrassing times" in their life, noting her husband cried afterwards.
Over the years, the TSA has come under intense scrutiny for its behavior during airport security screenings. In 2012, RT reported an agent forced a terminally ill leukemia patient to remove her bandages in public for a pat-down and search, during which one of her saline bags as damaged. That same year, the agency apologized for searching an elderly woman's colostomy bag, which violated standard procedure.
Before these incidents, the TSA also made waves in 2010 for making a cancer survivor remove her prosthetic breast and show it to an agent during an inspection.
You can share this story on social media: