TrapWire tied to anti-Occupy Internet-spy program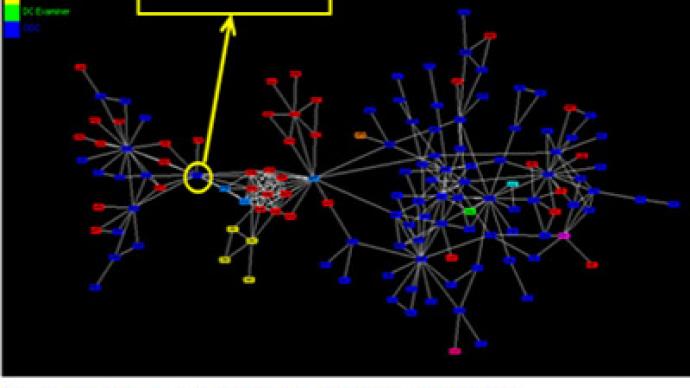 How do you make matters worse for an elusive intelligence company that has been forced to scramble for explanations about their ownership of an intricate, widespread surveillance program? Just ask Cubic, whose troubles only begin with TrapWire.
Days after the international intelligence gathering surveillance system called TrapWire was unraveled by RT, an ongoing investigation into any and all entities with ties to the technology has unturned an ever-increasing toll of creepy truths. In only the latest installment of the quickly snowballing TrapWire saga, a company that shares several of the same board members as the secret spy system has been linked to a program called Tartan, which aims to track down alleged anarchists by specifically singling out Occupy Wall Street protesters and the publically funded media — all with the aid of federal agents.Tartan, a product of the Ntrepid Corporation, "exposes and quantifies key influencers and hidden connections in social networks using mathematical algorithms for objective, un-biased output," its website claims. "Our analysts, mathematicians and computer scientists are continually exploring new quantification, mining and visualization techniques in order to better analyze social networks." In order to prove as such, their official website links to the executive summary of a case study dated this year that examines social network connections among so-called anarchists, supposedly locating hidden ties within an underground movement that was anchored on political activists and even the Public Broadcasting Station [.pdf]."Tartan was used to reveal a hidden network of relationships among anarchist leaders of seemingly unrelated movements," the website claims. "The study exposed the affiliations within this network that facilitate the viral spread of violent and illegal tactics to the broader protest movement in the United States."Tartan is advertised on their site as a must-have application for the national security sector, politicians and federal law enforcement, and makes a case by claiming that "an amorphous network of anarchist and protest groups," made up of Occupy Oakland, PBS, Citizen Radio, Crimethinc and others, relies on "influential leaders," "modern technology" and "illegal tactics" to spread a message of anarchy across America."The organizers of Occupy Wall Street and Occupy DC have built Occupy networks through online communication with anarchists actively participating in the movements' founding," the executive summary reads. On the chart that accompanies their claim, the group lists several political activism groups and broadcast networks within a ring of alleged anarchy, which also includes an unnamed FBI informant.Although emails uncovered in a hack last year waged at Strategic Forecasting, or Stratfor, suggested that Occupy groups had been under private surveillance, the latest discovery of publically available information implies that the extent to which the monitoring of political activists on American soil occurred may have extended what was previously imagined. Things don't end there, though. While the TrapWire tale is still only just beginning, the Ntrepid Corporation made headlines last year after it was discovered by the Guardian that the company was orchestrating an "online persona management" program, a clever propaganda mill that was touted as a means "to influence regional and international audiences to achieve U.S. Central Command strategic objectives," according, at least, to the Inspector General of the US Defense Department [.pdf]. The investigation eventually revealed that the US Central Command awarded Ntrepid $2.76 million worth of taxpayer dollars to create phony Internet "sock puppets" to propagate US support.One year later, the merits of Tartan's analytics are now being brought into question, but so are the rest of the company's ties. A trove of research accumulated by RT, Project PM founder Barrett Brown, PrivacySOS.org and independent researchers Justin Ferguson and Asher Wolf, among others, has linked Tartan with an even more unsettling operation.Margaret A. Lee of Northern Virginia is listed on several websites as serving on the Ntrepid board of directors as secretary, a position she held alongside Director Richard Helms, CFO Wesley R Husted and President Michael Martinka. And although several parties are going to great lengths to deny the ties, a paper trail directly links Lee and company to Abraxas — and thus Cubic — and, of course, TrapWire, the very surveillance system that is believed to be blanketing the United States.According to the Commonwealth of Virginia's State Corporation Commission, TrapWire Inc. was registered to Margaret A Lee on March 7, 2009. Other publically available information reveals that, at least at one point, Wesley Husted served as chief financial officer for TrapWire, Inc., where Richard H Helms held the title of CEO.Various sources have since claimed that Helms, a former CIA agent that once ran the agency's European division, has severed ties with TrapWire, yet the other connections remain intact.In RT's earlier research in the TrapWire case, it was revealed that TrapWire's parent company, Cubic Corporation, acquired an online identity masking tool called Anonymzer in a 2010 merger, and also controls the fare card system at some of the biggest public transportation systems in the world. According to the latest findings, Cubic's control extends beyond just that, though. Under their Ntrepid branch, Cubic controlled an operation that spied on political activists with FBI informants and attempted to link them to crimes across America. Whether or not the TrapWire system was implemented in such operations is unclear, and Cubic continues to maintain that they are not involved with the surveillance network. Last week, Cubic Corporation issued a press release claiming, "Abraxas Corporation then and now has no affiliation with Abraxas Applications now known as Trapwire, Inc." "Abraxas Corp., a risk-mitigation technology company, has spun out a software business to focus on selling a new product," the article reads. "The spinoff – called Abraxas Applications – will sell TrapWire, which predicts attacks on critical infrastructure by analyzing security reports and video surveillance."Not only does a 2007 report in the Washington Business Journal insist that the companies are practically one in the same, though, but a 2006 article in the same paper reveals that Abraxas had just acquired software maker Dauntless. Researchers at Darkernet have since linked Lee, Husted and Helms to the Abraxas Dauntless Board of Directors as well.Justin Ferguson, the researcher who first exposed TrapWire two weeks ago, has noted that Lee, Helms and Husted were listed on Abraxas Dauntless' filings with Virginia as recently as December 2011. They also are all present on the TrapWire filings dated September 2011 and the latest annual filing made with the Florida Department of State, Division of Corporations on behalf of Ntrepid.Nevertheless, in a conversation this week with Project PM's Barrett Brown, Cubic Corp. Communication Director Tim Hall dismisses this tie again. "There is no connection at all with Abraxas Applications and Trapwire and or Ntrepid," Hall allegedly insists, according to audio uploaded to YouTube.Brown, on his part, says he has obtained Cubic's 2010 tax filings that show that Ntrepd, like Abraxas, is "wholly owned" by Cubic. Other trademark information publically available online says that the Abraxas Corporation first filed to claim the name TrapWire in 2004 and was granted a license for such in January of 2007.
You can share this story on social media: