Congress introduces Obama fast-track authority on global trade pacts like TPP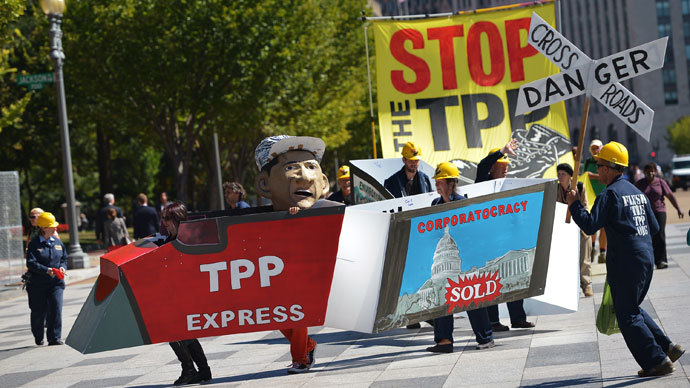 Congressional leaders on the US trade policy have introduced legislation that would grant President Barack Obama "fast-track authority" to enact three looming global trade accords, including the controversial Trans-Pacific Partnership.
House Ways and Means Committee Chair Dave Camp (R) and top Senate Finance Committee members Max Baucus (D) and Orrin Hatch (R) on Thursday unveiled the Trade Priorities Act of 2014 that would require a simple up-or-down vote on major trade deals without the opportunity to offer amendments to pertinent bills.
"The [Trade Priorities Act] legislation we are introducing today will make sure that these trade deals get done, and get done right," Sen. Baucus said in a statement. "This is our opportunity to tell the administration - and our trading partners - what Congress's negotiating priorities are."
The Obama administration is seeking the heightened authority in trade deals, allowing the Executive Branch to smooth congressional negotiations on accords. The two major deals, both long in the works, that are likely to be subject to such legislation are the 12-nation Trans-Pacific Partnership (TPP) and the 28-nation pact with the European Union, the Trans-Atlantic Free Trade Agreement (TAFTA). The deals would establish the world's largest so-called free-trade zones.
The US is also working on a services-trade accord with a group of nations that would encompass half of the global economy.
The TPP has come under much scrutiny for being negotiated among the US and 11 other nations along the Pacific Rim: Australia, Brunei, Canada, Chile, Japan, Malaysia, Mexico, New Zealand, Peru, Singapore and Vietnam.
Critics cite serious concerns over how provisions of the project could, for example, drive up the price of medications and other goods across the world. The White House's reluctance to provide details to leading lawmakers responsible for America's trade plans has caused a rift within the President's own political party, as his administration remains adamant about protecting the items being heard.
According to leaked excerpts of the Pacific deal, the Obama administration has been considering TPP provisions that would allow foreign corporations operating within the United States to appeal regulations on the environment, labor and banking that would be enforced on American-owned businesses with no chance of reprieve.
Under the provisions, while the US could be sanctioned for failing to impose regulations on American-run businesses, multinational corporations are given a direct path by the TPP to file such appeals. If one of the Pacific nations chooses to go down that route, their plea would be heard by an international tribunal that could overrule US law.
One group opposing the TPP deal - Fight For The Future - says there is more to be concerned with besides secretive international court mandates. According to group the TPP will: "restrict, police and censor the Internet, stifling free speech and innovation; radically decrease access to affordable medicine; circumvent protections for workers and the environment; expand economic inequality; prevent corporations from properly labeling genetically modified food."
Outside of elevating "individual foreign firms to equal status with sovereign nations," government transparency advocate Public Citizen says TPP seems to be less about trade but rather mechanisms to enact corporate policy at the expense of the average American.
"Of TPP's 29 draft chapters, only five deal with traditional trade issues," Public Citizen reports on its website. "One chapter would provide incentives to offshore jobs to low-wage countries. Many would impose limits on government policies that we rely on in our daily lives for safe food, a clean environment, and more. Our domestic federal, state and local policies would be required to comply with TPP rules."
In late July, Obama called for the new fast-track authority. US Trade Representative Michael Froman and US Commerce Department Secretary Penny Pritzker have both urged Congress to ultimately pass the measure.
Supporters of the fast-track legislation include major players like the Business Roundtable, the US Chamber of Commerce, the American Farm Bureau Federation and the National Association of Manufacturers. Boeing, Pfizer, Walmart and numerous other major corporations have aggressively lobbied for the authority granted in the Trade Priorities Act.
"TPA is the Chamber's top trade priority before the Congress," Thomas Donohue, the organization's president and chief executive officer, said Thursday in a statement.
White House Press Secretary Jay Carney said Thursday that while he had not seen details on the new proposed legislation, "when there's progress on that front it's a good thing," according to BusinessWeek.
Meanwhile, a competing bill to the Trade Priorities Act is in the pipeline, said Rep. Sander Levin, the top Democrat on the House Ways and Means Committee.
"You have to have a very substantial increase in Congress's involvement at all stages," Levin told reporters. The Trade Priorities Act "falls far short" of what would meet that standard, he said.
You can share this story on social media: