Communities grow weary of militarized police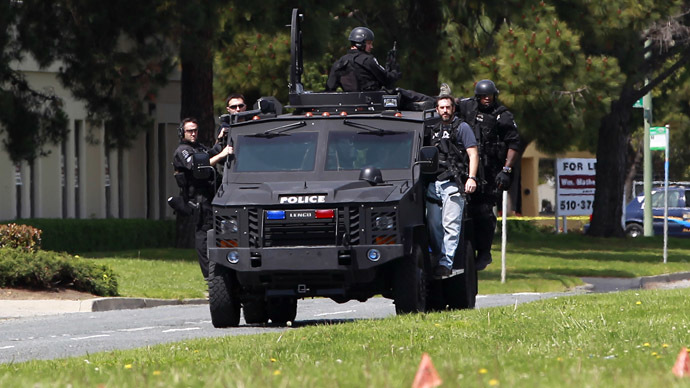 As numerous law enforcement agencies across the United States begin enrolling large armored vehicles into the force, pockets of resistance are forming among some communities concerned with the trend.
According to a report by the Wall Street Journal, the federal government has been granting armored vehicles like BearCats to cities and towns since the World Trade Center attacks in 2001. Additionally, about 200 vehicles designed to survive landmines and other explosions have also been distributed across the country, with another 750 requests pending.
While some communities have welcomed such acquisitions amid increased concern over mass shootings, others have balked at the idea. As RT reported last year, residents in Salinas, California, flooded the Facebook page of their local police department after it obtained a heavily armored vehicle capable of withstanding rifle fire and minefield explosions.
"That vehicle is made for war," mentioned one commenter at the time. "Do not use my safety to justify that vehicle," another one wrote. "The Salinas Police Department is just a bunch of cowards that want to use that vehicle as intimidation and to terrorize the citizens of this city."
Speaking with the Journal, Eastern Kentucky University professor Peter Kraska said residents are even more worried about potential police militarization following the recent disclosures of the National Security Agency's bulk surveillance program. When citizens continue to hear about the government's expanding presence, Kraska said armored vehicles represent "a pretty visual example of overreach."
Still, even as cities across the country raise concern over the acquisitions, limiting them may prove to be much harder. Just recently, New Hampshire lawmaker J.R. Hoell introduced a bill that would ban local towns from receiving armored vehicles, something he believes is leading to the further militarization of the police force. Already, he said 11 communities possess armored vehicles.
"This seems over the top and unnecessary to have this level of armament," Rep. J.R. Hoell (R) told the Journal.
According to the Concord Monitor, however, Hoell's bill failed in the state House of Representatives on Wednesday, where lawmakers voted to table the proposal.
Meanwhile, the BearCat's manufacturer, Lenco Armored Vehicles, said that law enforcement agencies are interested in obtaining the vehicle because they don't want to be unprepared for an unexpectedly dangerous situation, including natural disasters in which the vehicles could be helpful. The company also said that BearCats are typically only used by specialized teams.
One federal lawmaker, Sen. Tom Coburn (R-Okla.), on the other hand, has targeted the Department of Homeland Security's grant program – meant to bolster terror attack prevention – as a potential culprit in the past, questioning the need to spend so much money on armored vehicles. He said $35 billion has been spent on "questionable items" since 2003, including BearCats.
You can share this story on social media: