Torture talk banned from 9/11 trial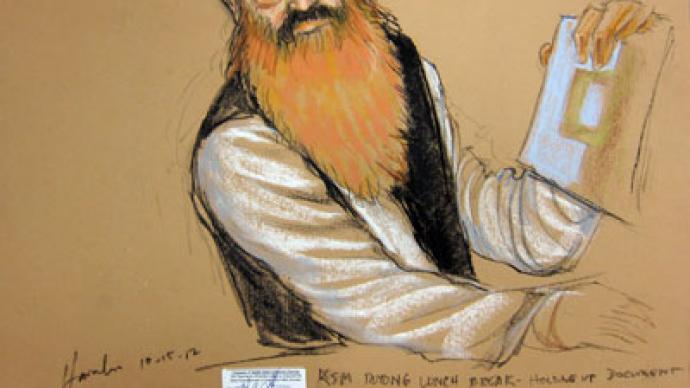 Khalid Sheikh Mohammed, the accused mastermind behind 9/11, was subjected to the torturous interrogation method known as waterboarding nearly 200 times during years of detention. The US won't let that be brought up in court right just yet, though.
Government documents show that Mohammed, commonly abbreviated in the media as KSM, was nearly drowned during water-boarding stunts 183 times after being captured in 2003 and moved to a secretive Central Intelligence Agency prison, then to the military facility at Guantanamo Bay, Cuba. But as pretrial hearings for KSM and four alleged co-conspirators are underway now at Gitmo, the government has refused the defense's pleas to allow discussions of torture take place in the courtroom.
Army Colonel James Pohl, the judge overseeing the hearings, will eventually have to decide to approve or reject an order drafted by the prosecution that would subject all testimonies during the case to a mandatory 40-second delay so as to prevent members of the press and public alike from hearing about the torture methods used on Gitmo detainees. Meanwhile, Col. Pohl told the defense on Monday that torture was not at all relevant to day's proceedings, despite arguments from attorneys who insist otherwise.
On Monday, Col. Pohl presided over discussions that would determine whether or not KSM and his co-conspirators — Ali Abdul Aziz Ali, Ramzi Binalshibh, Mustafa al Hawsawi and Walid bin Attash — would have to be present in the courtroom during their eventual trial, a matter which could yield death sentences for all five if a guilty conviction is met. The men are all being charged with, among other crimes, 2,976 counts of murder relating to the September 11, 2001 terrorist attacks and expect to finally be brought to trial sometime in 2014.
Air Force Captain Michael Schwartz, an attorney representing KSM, told Col. Pohl on Monday that taking his client and others away from their prison cells and hauling them off in shackles to be prosecuted before a panel of military members could remind them of the years of torture they were subjected to under CIA watch and thus inflect physical and emotional strains.
"We have to talk about torture," Schwartz told the judge during day one of this week's hearings.
"No we don't," Col. Pohl responded, prompting the defense attorney to insist otherwise.
"I think we do," Schwartz fired back.
"I'm telling you I don't think that's relevant to this issue. That's the end of that," Pohl snapped back at the attorney. "Are you having trouble hearing me? Move on to something else!" the judge ordered.
Reuters reporters note that unlike earlier hearings at Gitmo, this time the word "torture" was not censored from the spectators listening in, something that is expected to change if a government-ordered proposal is adopted by the court. A 40-second delay has been ordered so as to censor any future murmurings of those so-called "advanced interrogation techniques," since largely outlawed but still controversial nonetheless.
On their part, the government insists that publicizing the first-hand accounts from KSM and others subjected to waterboarding would risk making known the classified intelligence-gathering techniques used by the US.
David Nevin, a co-counsel representing KSM, told Democracy Now! this week that he believes the government is hard pursuing the ordered delay because they want to ensure that their mishandlings won't make the alleged conspirators come off as the subjects of CIA abuse.
"I'm talking about the United States of America tortured my client for three-and-a-half years. It's a capital case. Do you think that's something I might want to talk to Mr. Mohammed about? Well, of course it is. But there, defined as 'contraband' in the rules [of what detainees can talk about] is quote-unquote 'the detention of any detainee,'" Mr. Nevin said.
"It is a court that is designed to achieve a conviction and to do it in such a way that the truth never comes out about what was done to our client, who did it and why, and what it means."