Six killed, scores injured as tornado sweeps through north Texas
Officials in northern Texas say that a massive tornado that ripped through Texas has led to at least six fatalities, with over 100 more injured.
Fourteen people have been declared missing.
Authorities also indicated that at least 28 people had been injured and were receiving treatment at a local hospital.
More than 90 local residents have been evacuated due to the disaster.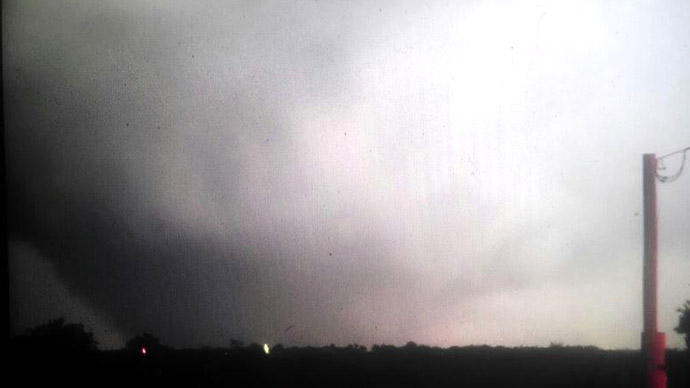 Over a hundred homes have been destroyed or badly damaged.
Local media pointed out there were three twisters that had swept through the area, and heavy rain carried on during the rescue efforts.
Picture: Significant damage seen in Granbury area of Hood Co., TX tonight via @wfaaweathertoobit.ly/13yiBVU twitter.com/stormchaser485…

— Johnny Kelly (@stormchaser4850) May 16, 2013
Hardest hit were two neighborhoods, Rancho Brazos Estates and DeCordova Ranch in the town of Granbury, just over 100km (65 miles) from the city of Dallas, AP reported.
The Dallas Morning News showed pictures of swirling dark blue masses in the sky, homes damaged by fallen trees and an 18-wheeler truck tipped over on to a car.
Granbury Mayor Pro Tem Nin Hulett indicated to ABC News that the top priority "is to try to get the people that are out there in the community under a shelter somewhere" and to account for the missing, according to Reuters.
According to police officials, power lines were down, and the roads were also blocked with debris. Bulldozers were clearing roads so people could be moved out of their houses.

There were no immediate estimates of property damage.

A witness told the local NBC affiliate that "it was like hell." Another local pointed out, "The house started shaking. We were in a closet. You could hear it -- it sounded like a train going off. It was scary."
Huge hail from storm that produced deadly tornado in Texas tonight: RT@krazyace35: @bradtraviswaff Hail in Granbury: twitter.com/krazyace35/sta…"

— Wayne Hart (@Wayne_C_Hart) May 16, 2013