Rare tornado hits New York City (PHOTOS)
Published time: 8 Sep, 2012 19:36
Edited time: 9 Sep, 2012 05:12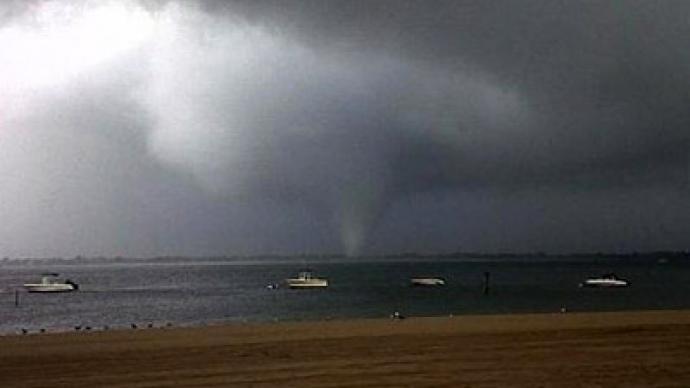 A tornado has hit New York City and caused some damages, the National Weather Service says. The powerful twister, which originated at sea, disrupted power lines and uprooted several trees in a beachfront area of New York.
­Videos made by eyewitnesses showed a swirling air column moving towards the shore. 
Lizann Maher, a worker at Kennedy's Restaurant at the edge of Jamaica Bay told AP that she saw a "swirling cone kind of thing with something flying in it" come down and then head back out into the water toward Brooklyn. "It was scary. We have all glass so we kept saying, `Get away from the glass!' just in case it did come back around."
Despite fears, the twister did not cause serious damage. Firefighters say the affected area appears to be small and no injuries have been reported so far.
However, officials warned of more storms and possible tornadoes in other parts of the northeastern US including New Jersey, Connecticut, Maryland, New Hampshire, Massachusetts and Pennsylvania.
Tornadoes are very rare for this region. The destructive weather phenomenon is typical for Midwestern states.
Image from Twitter/@Zack12Rose
Image from Twitter/@cthoxie