Texas woman executed after failed appeal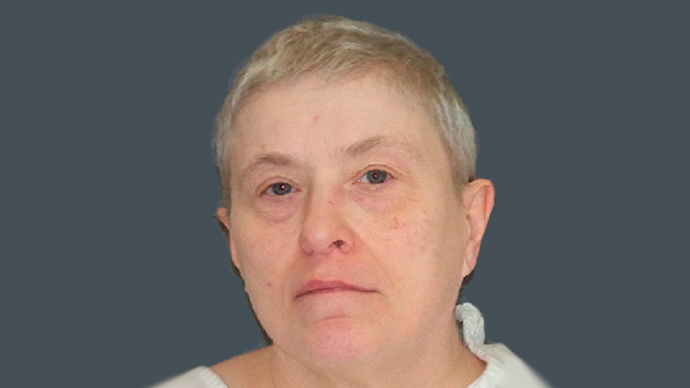 A Texas woman was executed Wednesday evening after a last-minute appeal to the US Supreme Court failed to halt the procedure.
Suzanne Basso, 59, became the 14th woman executed in the United States since 1976, when the Supreme Court restored capital punishment.
Basso was originally convicted of torturing and killing a mentally disabled man named Louis Musso after promising to marry him in New Jersey and leading him to Texas in 1998. Musso was reportedly beaten by Basso and a group of five others using baseball bats, steel-toed boots, fists and feet.
According to Reuters, court documents allege Basso killed Musso in order to claim the money paid out by his life insurance policy, of which she was a beneficiary.
These accusations have been vigorously denied by Basso's attorney, Winston Cochran, who argues there's no evidence that actually links his client to the crime. He also claims Basso is mentally impaired and therefore not fit for execution.
As noted by Reuters, Cochran has filed an appeal with the Supreme Court seeking a stay of execution. The 5th US Circuit Court of Appeals declined such an appeal on Tuesday, meaning the Supreme Court was Basso's last chance to avoid lethal injection.
Speaking with the Guardian, Cochran said that in addition to the lack of evidence directly implicating Basso, the testimony given by former Harris County medical examiner Paul Shrode was suspect, and that he "fabricated credentials and hypothesized expansively." After becoming El Paso's chief medical examiner, he was fired in 2010 after the testimony he gave in a previous case was discredited.
"[The prosecution] could not to this day tell you who did it," Cochran said of the case to the Guardian. "They had bad forensics in this case and they didn't do a thing about it... she was a fat, unattractive woman and it made a good show case. A couple of prosecutors made their careers out of this."
Cochran claims the original trial ignored evidence of Basso's mental condition, which could have resulted in a lesser sentence. He blames her state on a degenerative disease, but Basso stated during a competency hearing last year she was paralyzed during a beaten handed out by prison guards. She also claimed a prison nurse attempted to take her life by sneaking a snake into her prison cell.
The other five individuals implicated in the crime were also convicted, though only Basso was sentenced to death.
Following the Supreme Court's dismissal of Basso's appeal, she was executed via lethal injection at 18:00 CST Wednesday. That process has come under fire over the last few months, since many states have run out of the traditional three-drug combination necessary for injections – and European pharmaceutical companies have refused to sell the drugs due to moral objections – and have turned to the anesthetic pentobarbital to administer executions.
Even pentobarbital supplies are running low now, though, leading some states to purchase the drug from compounding pharmacies that are not regulated by the Food and Drug Administration. Earlier this month, an Ohio man was executed using an experimental drug cocktail which reportedly caused him to struggle noticeable for his life for 25 minutes. A recent study found that under these new drug protocols, executions now take twice as long as they used to, leading some to call the procedure cruel and unusual punishment.
You can share this story on social media: