Texas trooper suspended after conducting roadside cavity searches
Published time: 20 Dec, 2012 18:41
Edited time: 20 Dec, 2012 22:41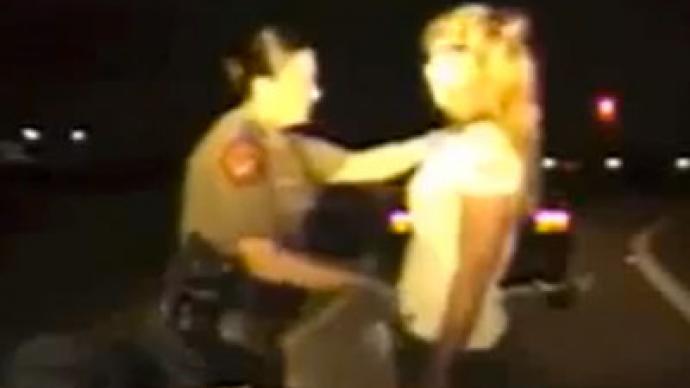 A Texas State Trooper who conducted an inappropriate and humiliating roadside body cavity search of two women has been suspended from her position while she is being investigated for violating the Fourth Amendment.
Trooper Kelly Helleson was suspended one day after two women filed a lawsuit against her for violating their bodies in search of marijuana. The two women had initially been pulled over by a male trooper for throwing a cigarette butt out the window. After claiming he smelled marijuana, he called his colleague, Helleson, to search the women's bodies. No drugs were found.
Using the same latex glove on both women, Helleson searched their anuses and vaginas and irritated one of the women's cysts, causing "severe and continuing pain and discomfort", the lawsuit states.
But after the lawsuit was filed and the Dallas Morning News published a video of the search, the trooper was suspended with pay from her position.
All troopers are "obligated to act reasonably so as to comply with the Fourth Amendment of the United States Constitution as well as the Texas Constitution and other applicable statutory provisions," Katherine Cesinger, Texas Department of Public Safety spokesperson, told CBS 11. "Any search that unreasonably invades the bodily integrity of a citizen is in violation of the Fourth Amendment and is therefore in violation of DPS policy."
The Fourth Amendment protects against 'unreasonable searches and seizures' and prohibits authorization of invasive searches without probable cause. Helleson has not been accused of violating DPS policy, but is under investigation for it.
The two women who filed the lawsuit, 38-year-old Angel Dobbs and her niece, 24-year-old Ashley Dobbs, claim they were traumatized from the incident and consider it a case of public sexual assault.
"Angel Dobbs was overwhelmed with emotion and a feeling of helplessness and reacted stating that Helleson had just violated her in a most horrific manner," the lawsuit states.
"I was molested, I was violated, I was humiliated in front of other traffic," Angel Dobbs told WFAA. "I had to watch my niece go through the same thing and I could not protect her at that point."
Scott Palmer, the women's attorney, expressed disappointment that the DPS did not take any action against the trooper until after the lawsuit was filed, months after the incident.
"That shows me they're being professional, but it's still unfortunate that it takes a lawsuit to get that kind of attention, that remedial action to get her off the streets," he said.