Police union director jokes about sex assault case
Published time: 4 Apr, 2013 19:53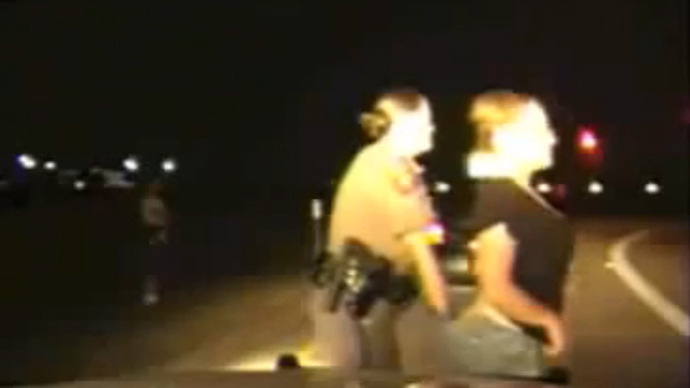 The director of a US police union has ridiculed a sexual assault case involving a Texas state trooper, joking that the women were simply receiving "customer service" by being subjected to a roadside cavity search.
Dale Roberts, the executive director of the Columbia Police Officers Association (CPOA) and a University of Missouri professor, mocked the indictment and the victims in a post published on his Facebook page.
"It's called Customer Service," Roberts wrote on March 27, regarding the indictment of Texas State Trooper Kelly Helleson. "We just did it so they wouldn't have to make the trip all the way down to the station."
After another Facebook user, Dan Rees, commented on the post, asking, "Was this service with a … smile?" the union director replied with an equally inappropriate response.
"Evidently, they searched them downtown, without going downtown," Roberts wrote.
The comments are in reference to a case involving a roadside cavity search conducted by Texas State Trooper Kelly Helleson, who has been charged with two counts of sexual assault for illegally violating the bodies of two women that were pulled over for littering. Angel Dobbs, 38, and her niece Ashley Dobbs, 24, say they were subjected to an invasive search for no valid reason. Using the same latex glove on both women, Helleson searched the women's' genital regions, claiming she was looking for drugs.
The search was ordered by State Trooper David Farrell, who pulled over the women after witnessing them throw a cigarette butt out of their car window. He said they were "acting weird" and claimed to have smelled marijuana, after which he searched the vehicle and called in Helleson to conduct a roadside cavity search.
The search, which was captured by a dashboard camera located in one of the trooper's cars, was conducted in a public place and left the women traumatized. 
"I was molested, I was violated, I was humiliated in front of other traffic," Angel Dobbs told WFAA in December. "I had to watch my niece go through the same thing and I could not protect her at that point."
Both of the troopers responsible for the roadside cavity search have been indicted on charges of sexual assault and oppression, but Roberts' comments shed further light on the lack of sensitivity demonstrated by some of those who are involved in law enforcement.
Roberts has previously come under fire for making offensive comments on Facebook. Last month, he made a racist joke on the CPOA's official Facebook page, which he controls as an administrator. He joked about a new armored vehicle, stating that "if CPD rolled up in the new Mercedes 6x16, you KNOW all the boys in the hood would come running out of the house – just to admire your ride! I say we roll up in style."
Mayor Bob McDavid responded to the comment, apologizing for Roberts' behavior.
"This Facebook post from the Columbia Police Officers Association shows breathtaking racial insensitivity that cannot be tolerated," he wrote. "The post displays an attitude and lack of professionalism that is unacceptable to the citizens of Columbia. Furthermore, it reflects poorly on the many fine, disciplined police officers in Columbia."
After Roberts' post was condemned by the media, he himself issued an apology, but has now come back into the spotlight with his latest status update, in which he ridicules the victims of a sexual assault case.