Texas House passes abortion restrictions despite public outrage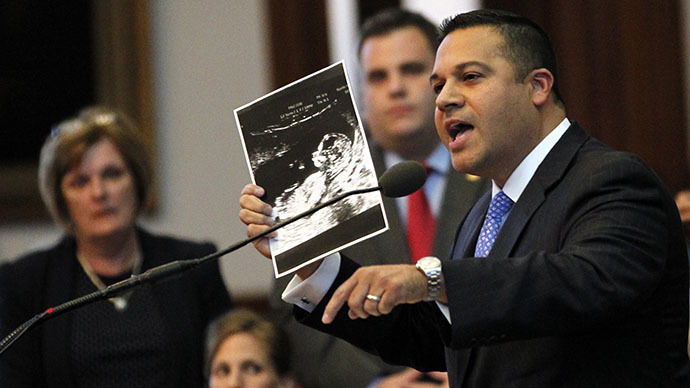 Texas legislators provisionally approved controversial abortion restrictions in a House vote Tuesday night after 10 hours of debate. The bill should effectively close nearly every women's health clinic that provides abortions in the largest US state.
The measure would to ban abortions after 20 weeks of pregnancy and enact regulations on clinics so invasive, critics say, that only six of the state's 42 women's health clinics will be able to remain open. Doctors who perform abortions would be required to have admitting privileges at nearby hospitals and prescribe when abortion needs need to be taken. Abortions would also only be allowed to be performed in surgical centers. 
A final, formal vote in the Texas House is scheduled for Wednesday. Known as House Bill 2 (HB2), the bill is then expected to pass through the Republican-controlled state Senate later this week before it is signed into law by Republican Governor Rick Perry. 
The American Congress of Obstetricians and Gynecologists issued an open letter to Texas lawmakers before the vote was held Tuesday and warned of the grave health consequences HB2 and its counterpart in the Senate, SB1, could have. 
"Facts are very important, especially when discussing the health of women and the American public. And a lot of 'facts' are being asserted in this debate," read the letter signed by ACOG President Jeanne Conry. "Truth be told, the scientific underpinnings of this legislation are unsound." 
"First, there's the 20-week ban, which is based on the argument that a fetus can feel pain. Recent and rigorous scientific reviews have concluded that there is no evidence of fetal perception of pain until 29 weeks at the earliest (third trimester is 28-40 weeks)." 
Tuesday's vote comes two weeks after a special session, when legislators may only debate an issue proposed by the governor, expired because of an 11-hour filibuster by State Senator Wendy Davis. Texas senators attempted to nullify Davis' filibuster by interrupting her with bogus legal stipulations but, in their efforts, were chanted into silence by 2,000 pro-choice activists that filled the state house.  

As the democratic state senator rocketed to national fame, though, Governor Perry quietly allotted a second special session for the abortion vote. The debate was no less contentious on Tuesday, when thousands of pro-life and pro-choice demonstrators rallied outside the statehouse.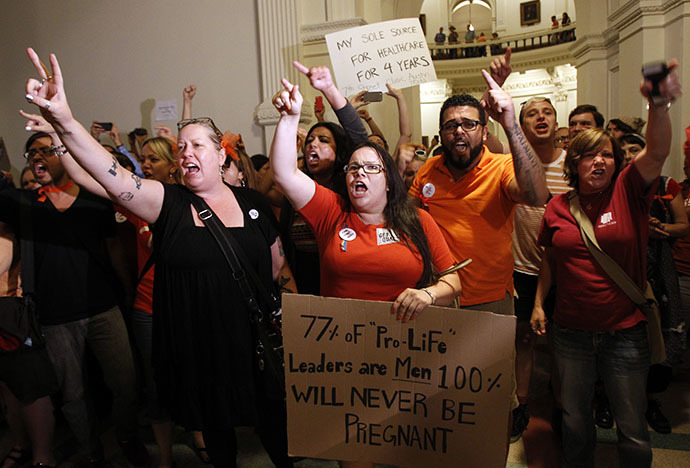 At least one young woman, 28-year-old Sarah Slamen, was removed from the building for berating the legislators. 

"Thank you for every hateful statement degrading women and girls to sex objects, and brood mares, and bald eagles and leather wallets, like you eloquent pro-life supporters have done today," she said. "This is a farce. The Texas legislature is a bunch of liars and it's a low bar that you hold yourself to that you simply allowed us to speak." 

The bill passed on party lines, with Democratic House members posing for a picture holding clothes hangers, implying that women without access to safe abortions would be forced to administer the procedure on themselves with improvised tools. 
Conservatives frequently used emotional appeals of their own, inviting women who regretted receiving abortions to tell the audience of their sorrows. Outside, anti-choice activists held pictures of aborted fetuses and held signs, one of which read "The child belongs to God." 
Through it all, lawmakers asserted that the new law would ultimately benefit female health in America's largest state, a claim the American Congress of Obstetricians and Gynecologists reiterated is simply untrue. 
"These proposed requirements, concerning door width and other irrelevant issues, would only make it extremely difficult or impossible for most clinics, including clinics that primarily provide important non-abortion well-woman health care services such as mammograms and prenatal care to low-income women, to stay open," the ACOG letter went on. 
"Women do not need – or want – any government to make medical decisions for them. Women must have access to all needed health care – from mammograms to prenatal visits to reproductive care – based on scientific facts, not political ideology."
You can share this story on social media: