Texas takes away lunch from prisoners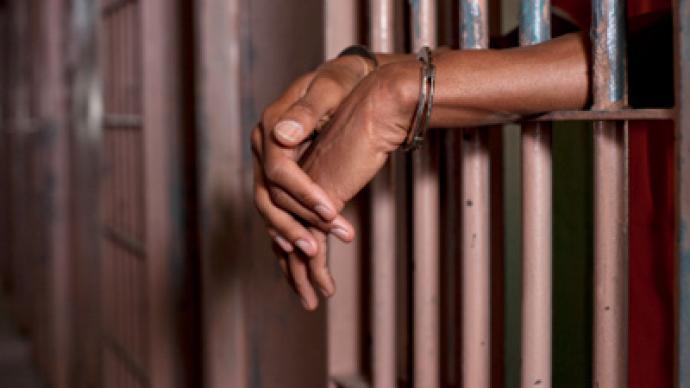 A message to anyone contemplating committing a felony in the state of Texas: don't do it hungry.
After only just recently repealing the common practice of awarding death row inmates a last meal, now it has been revealed that the great state of Texas will help all inmates cut calories by cutting out meals for just about everyone.For the last month, inmates in Texas state prisons have been given only two meals a day during the weekend, a move that is affecting around 23,000 prisoners all across the Lone Star State.To make it through the weekends, inmates will have to savor every morsel of their early morning brunch and evening dinner as they are stripped away of the lunchtime meal."In the economic climate we're in, you're asked to do some creative and inventive things," Sheriff Daron Hall of the American Correctional Association tells The New York Times. This innovative practice of starving prisoners is expected to help cut food-related expenses by around $2.8 million for the 2011 fiscal year.With thousands of men and women being stripped of most of their liberties and surely all of their luxuries already, this move comes not as just a pain in the stomach but a slap in the face to many."One inmate told me, for some of them, that's all they have to look forward to is a meal," Susan Fenner, executive director of the Texas Inmate Families Association, adds to The Times.When prisoners do get to grab some grub, Texas has managed to cut costs elsewhere on the menu by ditching such dietary staples as, say, milk. Trying to pinch pennies even tighter, the state has also transitioned from actual dairy milk to a powdered substitute, a move that officials say will help further help save costs.Gosh, that electric border fence must be pricier than we imagined.Most other state prisoners across the US still receive three meals a day, but Texas has managed to make due with a little less food for the thousands of inmates. Those incarcerated in federal and county institutions are still receiving their three meals daily, but the move enacted last month has impacted three-dozen prisons across the state so far. David C. Fathi of the ACLU's National Prison Project in Washington tells the Times that "This is not something the Supreme Court has addressed," but seems to be something that should be brought up.As for those always courteous lawmakers in Texas? "If they don't like the menu . . . don't come there in the first place," says Democratic State Senator John Whitmire. His distaste for allowing prisoners a little taste before the state executes them helped bring an end to last meals last month.Will this matter much to Texans? It doesn't seem like it. Governor Rick Perry was created with an astonishing round of applause from a crowd of conservatives during a recent GOP debate in which he touted himself for approving more executions than any other head in the state's history. Good job!
You can share this story on social media: