Texas judge halts construction of Keystone XL pipeline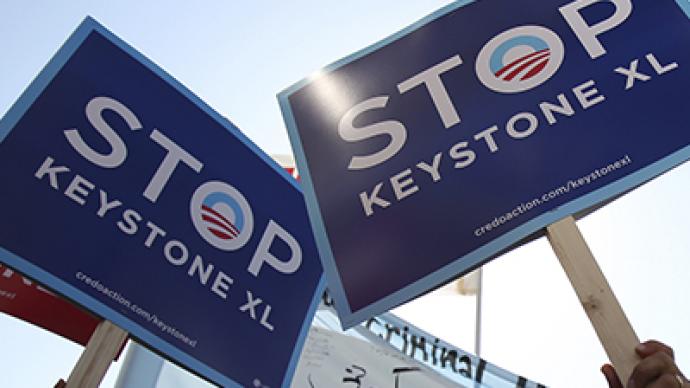 TransCanada has been ordered by a Texas judge to cease construction on part of its controversial Keystone XL pipeline expected to run from Alberta, Canada to the Gulf of Mexico.
Texas County Court at Law Judge Jack Sinz has granted a temporary restraining order and injunction that favors Michael Bishop, a landowner whose 20-acre property outside of Houston, TX is in the path of the massive oil pipe project.Judge Sinz's injunction went into effect Tuesday morning and will last through December 19, at which point a court will reconvene to consider Bishop's case. According to the plaintiff, TransCanada misled Texans when it asked them to open their property up for the pipeline. Bishop, 64, says TransCanada pitched the project as a pipeline that would carry crude oil from the north into the gulf when they convinced landowners to sign off on construction, but now he thinks they weren't being just.In Texas, crude oil is defined in state and federal statutory codes as "liquid hydrocarbons extracted from the earth at atmospheric temperatures," Bishop tells the Associated Press. Since the oil extracted in Alberta is nearly solid from the start and must be "heated and diluted in order to even be transmitted," Bishop says he was asked to agree on something completely different."They lied to the American people," Bishop, a Vietnam War veteran, tells AP.On their part, TransCanada insists that US courts have already ruled in their favor during previous cases and concluded that tar sands is a form of crude oil. Bishop warns that he won't go down easy, though."Bring 'em on. I'm a United States Marine. I'm not afraid of anyone. I'm not afraid of them," Bishop tells the AP. "When I'm done with them, they will know that they've been in a fight. I may not win, but I'm going to hurt them."The Keystone XL pipeline has been marred with controversy since well before the first shovel was used to start construction. Although the project will have to eventually connected the US with Canada, President Barack Obama has refused to grant the proper permits to TransCanada for their most recent proposed route over concerns that it will disturb protected land in Nebraska.Earlier this month, activists in Texas were arrested for barricading themselves inside part of the pipeline during construction."This fight in East Texas against tar sands exploitation is one and the same as our fight in the hollers of West Virginia. Dirty energy extraction doesn't just threaten my home; it threatens the collective future of the planet," activist Glen Collins told Common Dreams of why he risked arrest.
You can share this story on social media: