Native Americans disrupt Keystone XL Pipeline construction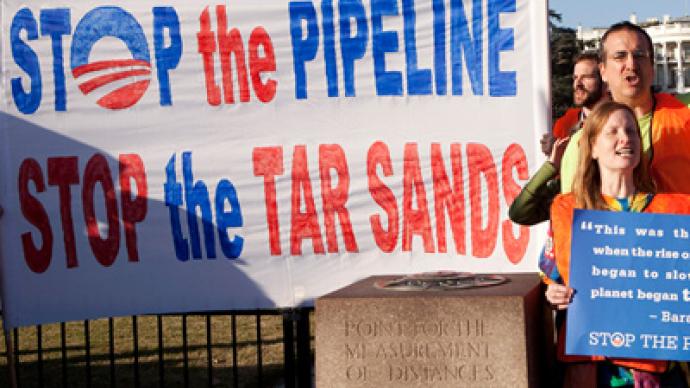 Dozens of Native Americans made a human blockade to keep trucks transporting materials for the Keystone XL Pipeline from entering their land this week. The peaceful protest ended with at least five arrests.
As many as 75 members of a Native American tribe in the state of South Dakota attempted to create a man-made road block on Monday in hopes of halting two tractor trailers that were en route to Canada. According to reports, two trucks hauling materials to be used on the Keystone XL Pipeline attempted to cross into the Pine Ridge Reservation, prompting natives opposed to the oil project to gather en masse and effort a blockade.
Members of the Oglala Lakota tribe are against plans for the pipeline, saying construction could compromise their water supply in two locations, potentially damaging the Earth and poisoning their people for the sake of profit. The Obama administration recently put a halt on one proposed pathway for the pipeline that the White House argues would have detrimental effects on the water source for eight states. TransCanada, the Canadian company involved, plans to begin construction later this year on an alternate route that they feel will be approved by US officials, though.
"America is built on stolen land and was built with stolen hands. XL Pipeline equipment, anything that has to do with the destruction of Unci Maka (Mother Earth), we don't want any part of it. They need to stay out of our territory," Lakota activist Olowan Martinez tells Raw Story.
As word began circulating that two trucks were slated to cross into their land Monday, locals took to social media platforms to launch a call for action. By the time the trucks approached the reservation, protesters were ready to form a blockade.
Debra White Plume, a fellow activist, adds to Censored News that the state of South Dakota has an agreement with Canadian officials to route the trucks through Pine Ridge Reservation in order to save money. Chase Iron Eyes, a writer for the Last Real Indians website, adds, "One of the drivers responded that they did not know they were crossing Indian land, only that they were following company directives regarding their assigned routes and that their Canadian Corporation had received this particular route information as a result of a partnership with the State of South Dakota, whose elected officials have always supported the Keystone XL pipeline."
If vehicles had traversed other state roads, they would have risked fees of $50,000 a piece at Interstate Highway System weigh stations.
Instead, state officials told Canadian authorities to route the drivers onto Lakota land. Martinez tells Raw Story it's "a slap in the face" and others echo that it only further worsens both sentiments and land conditions.
Plume adds to Censored News that by skirting the state's highway system, not only did the transportation company try to save $100,000 on two trucks, but put upwards of 360,000 pounds onto the native's land.
"How dare them think they could come through our territory to go destroy our drinking water?" says Martinez. "You know, we don't want no part of it. And as far as I'm concerned, they shouldn't be traveling on any part of any road."
Martinez adds that the group has been attempting to acquire a restraining order which would keep future trucks from entering their land. If everything works out, they will be able to seize any other attempts by oil companies to come onto the reservation. "Because once we have the restraining order, we can confiscate and we will confiscate the vehicles if we catch them here again," says Martinez.
She also adds that any restraining order would keep the people from being arrested if they wage future demonstrations. At least five were detained on disorderly conduct charges related to the protest. After the demonstration was broken up, authorities escorted both trucks back to the main highway to be routed off of Native American land on their way to Canada.
Debra White Plume adds to Last Real Indians that the response from fellow Oglala Lakotas was remarkable. "It is always good to see that we're still Indigenous. We will never stop caring for mother earth. When the call went out asking for help, the response was immediate."