Texas abortion bill aborted: Filibuster denies passage of hospital-closing law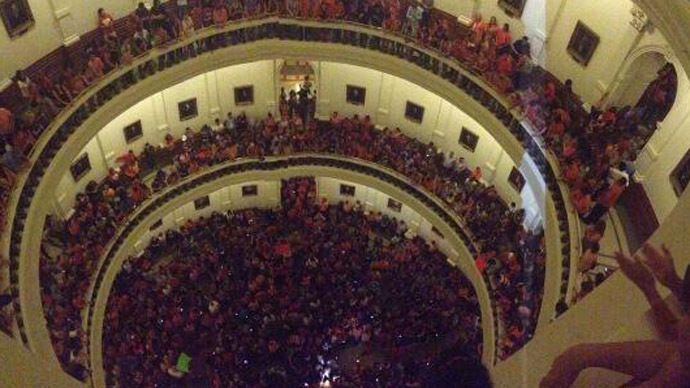 The Texas Senate was at odds over an abortion bill demanding all hospitals in the state performing the operation be shut down. Senator Wendy Davis spent most of her day staging a filibuster. Later, the governor stated the bill came too late to pass.
Davis, representing Fort Worth, staged a filibuster during the session, which denied the bill's passage due to use of available time.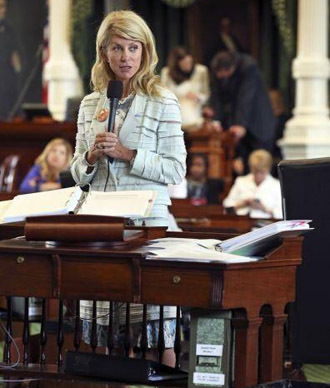 She was wearing pink tennis shoes, prepared for an hours-long stand: the rules of a filibuster demand that the person remain standing, without leaning on a desk or taking any breaks, even for meals or to use the bathroom.

In her opening remarks, Davis said she was "rising on the floor today to humbly give voice to thousands of Texans" and called Republican efforts to pass the bill a "raw abuse of power."

Davis tried to stay comfortable by shifting her weight from hip to hip and walking around the desk. When a male bill supporter stood up in the gallery and shouted, "Abortion is genocide," Davis carried on with her speech.

Her filibuster eventually lasted for almost 11 hours, and was dramatically ended minutes before midnight.

Republicans demanded that Davis stay on topic, a requirement they say she didn't follow – plus, a colleague attempted to give her a back brace, which lawmakers protested.
Democrat senators chose Davis to protest against the bill as she had her first child as a teenager and graduated from Harvard Law School afterwards.

Outside, all throughout the day, crowds of women stood in line, waiting for people in the gallery to give up their seats.

Hundreds of protesters clapped and shouted for the last 15 minutes of the special session in attempt to run out the clock, and they succeeded: according to the Texas State Senator Whitmire, "there was a vote, but it was an invalid vote because it happened after midnight."

However, if the law is signed anytime soon, it would virtually mean the closing of every abortion clinic in Texas, the second largest state in terms of population (26 million people).

Only five out of 42 clinics will be able to remain in operation due to the law indicating that abortions should only be carried out at surgical centers.

Thanks to the powerful voices of thousands of Texans, #SB5 is dead. An incredible victory for Texas women and those who love them.

— Wendy Davis (@WendyDavisTexas) June 26, 2013
You can share this story on social media: