Texas is running out of execution drug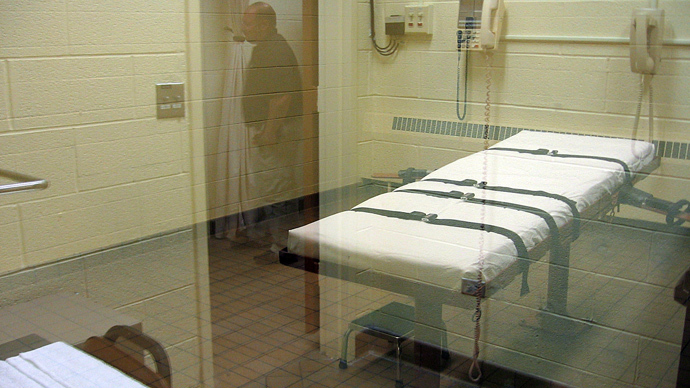 Texas has executed more than 500 inmates over the past three decades, but now the Lone Star State is running out of its supply of lethal injection drugs and is scrambling to find an alternative.
The Texas Department of Criminal Justice on Thursday announced that its supply of pentobarbital expires in September, and the department has no alternative to the lethal, single-dose drug with which it executes its death row prisoners.
"We will be unable to use our current supply of pentobarbital after it expires," Jason Clark, a department spokesperson, said in a statement. "We are exploring all options at this time."
Since the Supreme Court reinstated the death penalty in 1982, the state has executed 503 prisoners, the most recent of which was killed on Wednesday. Texas has put to death 11 inmates this year, and at least seven more are scheduled to die in 2013. It now remains unclear if their executions will be able to proceed on their scheduled dates.
Texas first started using pentobarbital last year after one of the drugs it used in its three-dose execution process, sodium thiopental, expired and became difficult to obtain. The manufacturer, an Illinois-based pharmaceutical company called Hospira Inc., had planned to move its drug production to Italy. The Italian government objected, stating that it does not approve of the production of thiopental because of its use in executions. Hospira Inc. proceeded to cut off its supply.
Texas was forced to switch to pentobarbital – also known as Nembutal – which raised the cost of lethal injection drugs for each execution from $83.55 to $1,286.86.
The single-dose lethal injection drug is also used by patients seeking doctor-assisted suicide in Europe. In the US, it is commonly used as a sedative or a drug to euthanize pets or other animals. But some drug suppliers, facing resistance from death penalty opponents, have recently refused to sell or manufacture pentobarbital for use in executions, thereby leaving death penalty states with yet another dilemma.  
Lundbeck, a Danish manufacturer of pentobarbital, announced that the drug is unsafe for use in lethal injections and cut off its sale to US prisons in 2011.
"States really scramble to go all over to get drugs," Richard Dieter, executive director of the Washington-based Death Penalty Information Center, told AP on Thursday. "Some went overseas, some got from each other. But these manufacturers, a number of them are based in Europe, don't want to participate in our executions. So they've clamped down as much as they can."
Although Texas is the state that carries out the highest number of executions in the country, it is not the only state facing a drug shortage. Georgia recently announced that it would turn to compounding pharmacies and request customized drugs for use in executions. Missouri is also facing a shortage of lethal injection drugs, and is seeking alternative options.
"When Texas raises a flag that it's having a problem, obviously numerically it's significant around in the country because like they're doing half the executions in the country right now," Dieter said.
Missouri wants to use propofol, the anesthetic that was attributed to the death of pop star Michael Jackson in 2009. The drug has never been used for the execution of prisoners, and the Missouri Supreme Court has delayed the state's executions until legal matters about the drug's use are resolved.
Missouri Attorney General Chris Koster has suggested that the state should consider using the gas chamber, which is still a legal method of execution in the US. But for now, states are scrambling to find alternative drug options to conduct their executions as their supplies of pentobarbital run dry or expire.
You can share this story on social media: