Texas executed mentally disabled prisoner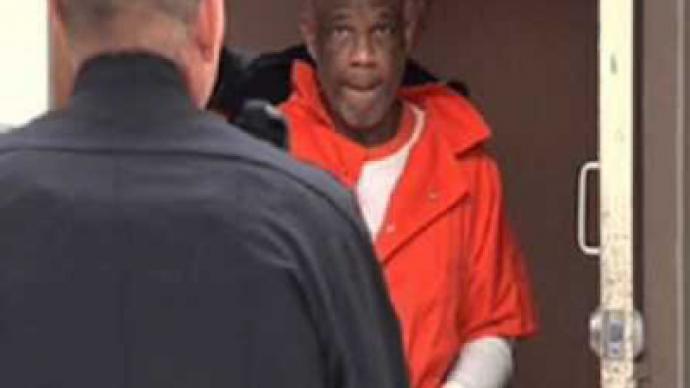 A medically diagnosed "mentally retarded" prisoner was executed by lethal injection in Texas, even though a 2002 Supreme Court ruling deemed him ineligible for the death penalty.
On Tuesday, the lawyers of 54-year old Marvin Wilson petitioned the Supreme Court for a stay of execution, which would give additional time to prove the man's disability, but the Court rejected the appeal just two hours before he was scheduled to receive lethal injection.The Texas judge considered the man a "street-savvy criminal" for his involvement in the 1992 murder of a police drug informant.At 6:27 pm, Wilson was executed before his friends and family."Give mom a hug for me and tell her that I love her," he cried out. Before he was given the injection, Wilson smiled and nodded his head at his three sisters as they watched him through the window of the death-chamber gurney.Wilson told his son not to cry and promised his family he would see them again."Take me home, Jesus. Take me home, Lord," he prayed, as the lethal injection seeped through his veins. "I ain't left yet, must be a miracle. I am a miracle."It took 14 minutes for Wilson to fall into an endless sleep.The murder victim's family stood watching from an adjacent window. Ten years ago, Wilson and accomplice Terry Lewis were convicted of murdering 21-year-old Jerry Williams in Houston, several days after Wilson was arrested for possessing 24 grams of cocaine.After Wilson was released on bond, he accused Williams of snitching on him about the drugs and shot him in the head and neck.But while the convicted murderer was on death row, Texas state officials diagnosed him as mentally retarded. With an IQ of 61, he fell below the 70 point benchmark that classifies someone as ineligible to be executed.Wilson grew up to be called a "dummy" at school and failed his special education classes. He struggled to tie his shoes, count money, get dressed and mow the lawn. Wilson also sucked his thumb into his 20s.In 2002, the US Constitution ruled that "no person with mental retardation is eligible for the death penalty." The execution of the mentally retarded was declared cruel and unusual punishment forbidden under the Eighth Amendment, and Wilson's lawyers insisted this should apply to the defendant.But even though one test proved Wilson to have mental retardation, the Texas Court for Criminal Appeals made its ruling based on a fictional character from John Steinbeck's novel, "Of Mice and Men." The court claims that anyone less impaired than the character Lennie Smalls should receive no constitutional protection from execution by the state.The son of the author expressed outrage at the use of his father's novel."Prior to reading about Mr. Wilson's case, I had no idea that the great state of Texas would use a fictional character that my father created to make a point about human loyalty and dedication… as a benchmark to identify whether defendants with an intellectual disability should live or die," Thomas Steinbeck told the Huffington Post. "I am certain that if my father, John Steinbeck, were here, he would be deeply angry and ashamed to see his work used in this way."The Supreme Court leaves it up to states to decide whether or not someone is considered mentally retarded.Since the Texas Courtt, which called Wilson "street-savvy," did not consider him exempt, the 54-year-old was lethally injected in the state that administers the most executions almost every year.
You can share this story on social media: