Texas cops arrest man for holding sign warning 'Police Ahead'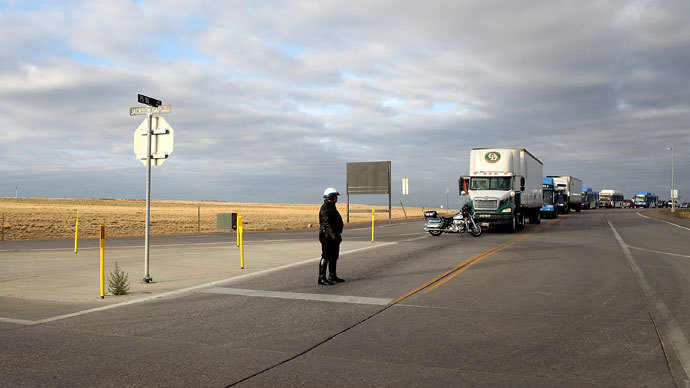 A 33-year-old Texas man was in court this week to defend himself over charges stemming from an incident last October in which he stood in the middle of a six-lane highway with a sign reading "Police Ahead."
Ron Martin faces a misdemeanor charge over the event, but is determined to clear his name in court. According to him, he was performing a service no different than the Frisco, TX traffic cops who were stationed just up the road to pull over people for speeding.
"Ultimately, we're trying to do the exact same thing," Martin said in court on Wednesday, according to KHOU News. "I just don't wear a uniform. I'm the same thing as a speed limit sign, just reminding people that there is a limit here."
"They hide behind signs and they use their motorcycles sitting in the road, sun going down, without lights or anything," he added during a recent interview with Fox News. "I just feel like it was a little bit unsafe, not only for citizens, but for police officers having to do their job."
That wasn't the first time he engaged in this unusual type of community service, though, and local cops are well aware of his antics. Arresting officer Thomas Mrozinski wrote in his police report that Martin has a history of "holding signs in the center median of traffic," and the man himself — a professional sign painter by trade — doesn't dispute his conduct.
On the day in question, for instance, he told the Dallas Observer that a traffic cop up the road on a motorcycle could have likely been killed because of how he was hiding from passersby.
"If anyone made a right turn there, they would have had to swerve and hit the median or hit the officer himself," Martin said.
The police actually arrested Martin after approaching him that day in October and ordered him to put down his homemade sign because they said it was in "violation of city ordinance," according to the Dallas Observer.
"I observed a couple cars drive by traveling westbound waving at us," reads Mrozinski's report. "Mr. Martin was observed standing in the center median of the six-lane divided roadway ... holding a sign in his right hand up over his shoulders that read 'Police Ahead.'"
Martin started recording video on his cell phone, but ultimately had to hit pause while being detained. Now he faces misdemeanor charges, but doesn't think the Frisco police have much of a case against him. According to the Observer, Martin has been charged with violating the city's human sign ordinance, which prohibits people from either wearing costumes or holding signs for advertising purposes. Martin told the paper that he wasn't advertising anything per se, but that he painted over an old real estate sign in order to scrawl "Police Ahead" — which could be enough to accuse him of unlawfully broadcasting a business message, if the cops consider keeping the charge in place.
Frisco Police Department spokesman Sgt. Brad Merritt told ABC News that the Class C misdemeanor charge Martin now faces is akin to "basically a traffic ticket," but the defendant plans on fighting that count at his next hearing scheduled for Feb. 21.
You can share this story on social media: